These little jars contain all of our favorite sable ingredients and are completely vegan. Make them a prelude to any summer parties or outings! They'd also be a great healthy 4th of July dessert.
Hi friends! Reshare this blog post today because the recipes are so good and the perfect summer dessert.
I am so excited to tell you about these monkeys in a jar aka That Time I Turned Off the Fire Alarm While I Nap P.#Sacrifices
They were definitely worth it when Liv and I were sitting at the table, whipping spoons together ("cheers") and batting our way through our jars.
Our pool is finally done, and while summer is almost over, we're determined to hold as many get-togethers as possible until it cools off. (In Tucson, this usually doesn't happen until around Halloween.) Sweets in jars for summer parties usually come to mind, especially because they're so easy to prepare in advance.
Here's a new dessert for you if you're planning get-togethers, or just want the perfect summer dessert. It's easy to create a vegan and gluten-free option—just use the gf graham crackers and grab the goodness at the health food store that fits your needs. This little jar of happiness has all the flavors of classic sable.
There's a graham cracker bottom,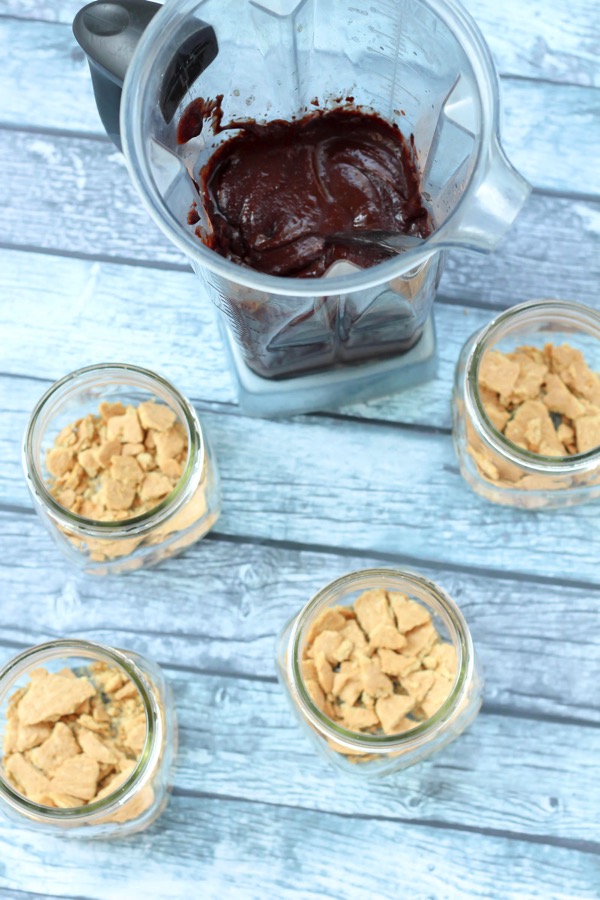 Chocolate mousse with creamy vegan cashews,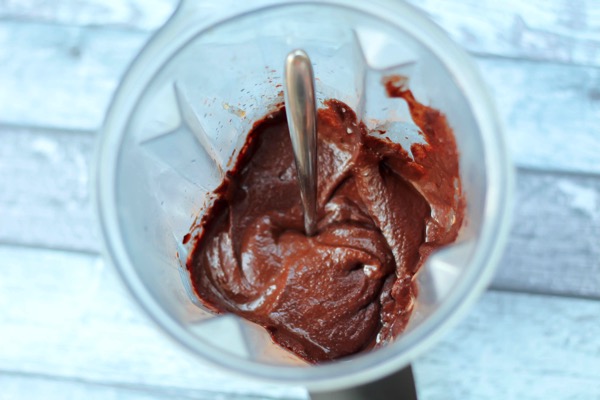 + Roasted marshmallows + chocolate chips and crumbled graham cracker on top.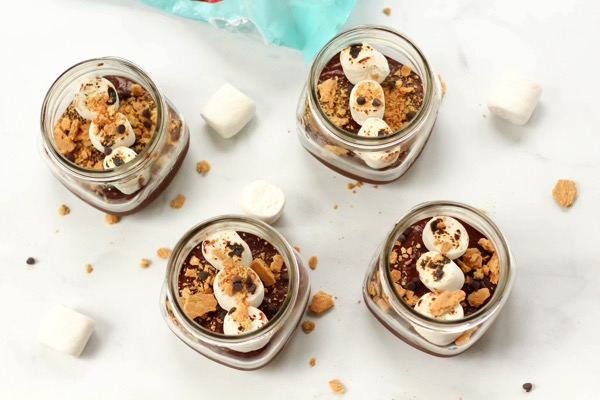 In short, you need this in your life.
The best part: Make it in advance and when you're ready to serve, simply toast the marshmallows (oven grill or open fire is preferred rather than the same lighter I use to light the candles)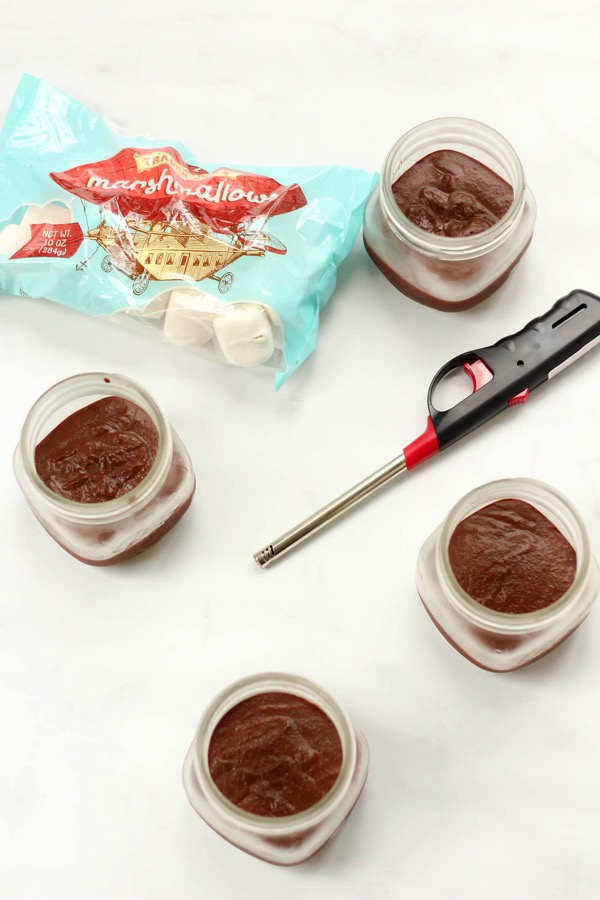 And topped with chocolate graham crackers and chocolate chips.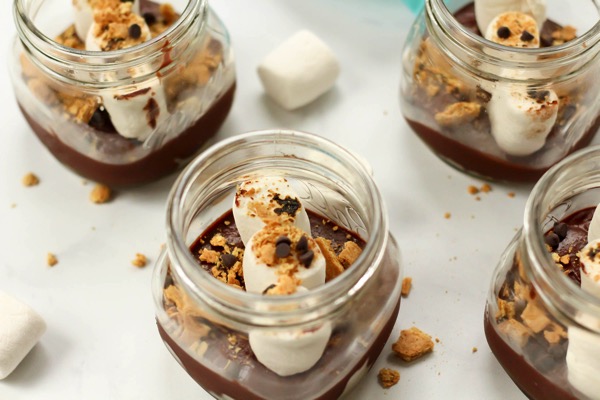 Take them out onto the patio after dinner, and watch everyone explode into creepy, evil smiles.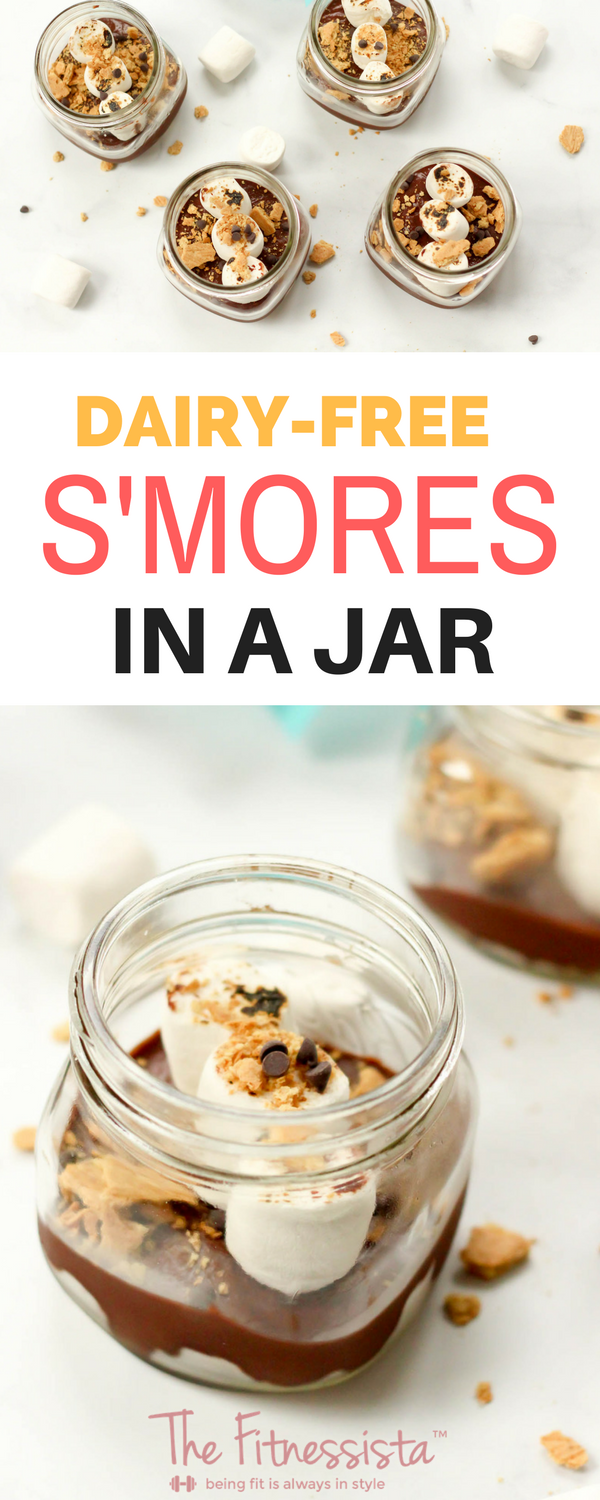 Please let me know if you give this a try!
printing press
S'mores in a jar with vegan chocolate mousse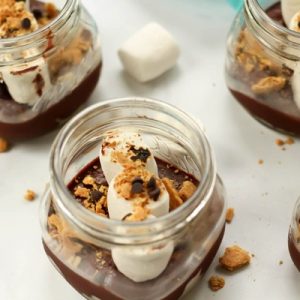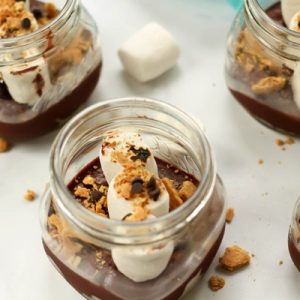 A delicious vegan chocolate pudding with all the classic sable ingredients. Perfect for summer desserts and parties!
Preparation time:

75

total time:

1 hour and 15 minutes

fruit:

4

1

x
2 1/2 cups

Soaked raw cashews (soak at least

1

hour and rinse)

1 1/2 cups

cocoa powder

1 cup

Maple syrup

1/2 cup

honey

1 teaspoon

vanilla

1/2 teaspoon

sea ​​salt

1/3 cup

Water

3/4 cup

melted coconut oil
Graham crackers, marshmallows and chocolate chips, to serve
Do exactly that – it will make a huge difference in the world
In a Vita-mix or high-speed blender, add the cashews, maple syrup, honey, vanilla, sea salt, and water. Blend well until smooth and creamy (you may have to use Vitamix adhesive, regardless of its name)
Add cocoa powder and mix until completely smooth – no lumps, mmk? Again, use the Vita-mix sticky thing.
Finally, add the coconut oil and mix until smooth.
Get 4 small mason jars and sprinkle the bottom of each one with graham crackers.
Pour the chocolate mixture into the jars. You can store it covered in the refrigerator to top it up later.
When ready to serve, top with toasted marshmallows, more graham crackers, and chocolate chips.
Notes
You can use this raw mousse as a pie filling, too! Pour into a graham pie crust, pour marshmallows on top, and roast in the oven. yum.
xoxo
Jenna
More of my favorite summer desserts:
crazy facebook
DUMP CAKE <- A pilot's favorite candy ever
strawberry crumbs
Lava cake with almond butterزبد