Today's topic is very close and dear to my heart: Women's Health and Fitness! While all races and people experience unique and individual situations, I feel there can be some commonalities between people who share similar identities.
Fitness tips for women
Being female, at least in my experience, comes with some relevant areas when it comes to fitness, exercise, body image, respect, nutrition, and weight.
For this reason, I feel it is our duty as women to help empower and support one another.
In short, that's what this whole piece is about learning how we can be kinder to ourselves, which can only help us be kinder to each other.
First, I'd like to dispel some of the common misconceptions many women have regarding nutrition, fitness, and wellness and then dive into some great fitness tips for women.
Lifting will make you huge
This is a myth I've heard a lot throughout my years in the fitness industry.
Believe me, lifting weights won't make you bulky. Building muscle requires a specific weight range and repetition range. Lifting from the lighter to moderate side will not dislodge anyone. If anything, it will enhance lean muscles that make a person look leaner and more in shape.
Like anything, including fitness, everything should be individual. With this principle applied, resistance training will/can produce different results based on many factors – diet, weekly workouts, set and repetition ranges, weight range, fitness level, body compensation, mental/emotional health, and physical limitations / Injuries, sleep, metabolism, age etc.
With this in mind, it is very important to find the resistance training program that will work best for you and your goals. Furthermore, I highly recommend some type of weight training for most individuals. Resistance training allows the individual to keep his muscles intact which only helps to enhance the functional movement and the body working at maximum capacity.
Finally, adding some lean muscle to your body can help you maintain your weight. For every pound of muscle you add to your body, your body burns 50 calories while at rest. This can create a fail-safe situation during cheat meals. However, I wouldn't recommend relying solely on this to keep your weight off.
In theory (I say this because everyone loses weight differently), it takes 3,500 calories a week to lose a pound a week, so 50 calories per pound of muscle isn't the only thing to do when wanting to address weight loss healthily. One would have to gain 70 pounds of muscle just to rely on this, which is unrealistic for almost all females.
However, I find this information convenient and useful to know!
Protein Only For Men / Body Builders
In fact, everyone needs protein in their regular diet. The amount and type of protein depends on your goals and dietary restrictions.
Someone who wants to build and/or compete extensively in bodybuilding competitions needs more protein than most people.
Options like chicken breast, lean turkey, and egg whites are great healthy protein choices for most people. This of course does not go into the vegetarian options for protein which would require a whole other article to fully discuss it.
Moreover, one can get enough protein while being a vegetarian. However, I find it easier to build muscle while not being vegan – certainly not impossible.
Personally, I love whey protein powders like Quest and Isopure. Again, this is not a viable option for vegetarians and lactose intolerant people.
Owyn and Evolve powders are great healthy plant-based protein options that I would definitely recommend.
Finally, if you are unsure about the types and amounts of protein you should be consuming, I highly recommend seeking the advice of a nutritionist and/or fitness professional.
Women don't need to work their chest
This is completely wrong. Chest work allows our upper body to work at maximum capacity/functionality and avoid upper body compensation.
For example, if you have strong triceps and biceps but weak pectorals, the biceps and triceps may take over the chest, which can create unwanted imbalances in the body, which can lead to injury at some point. .
We want all of our muscle groups to be strong and ready to work. This is how our bodies can function like a well-oiled machine.
Furthermore, doing chest exercises such as push-ups and chest presses can help raise/keep the breasts raised, which can boost overall self-confidence in women.
We have to stay together
I recently started working at a women's weightlifting gym and the amount of support and community there is amazing.
I feel as women that we learn to be threatened by each other and to be in competition with each other.
However, I feel this is the wrong way to go!
We need to support and empower each other. The only person we have to compete with is ourselves. Just because someone does something well, doesn't mean we're less than.
When we put someone else down, it usually comes from the point of stimulating low self-esteem within ourselves.
With this said, I encourage everyone, when you feel like saying something negative about someone else, to check it out with yourself, realize where they should say the 'x' coming from, and replace the negative thoughts/sentence with something positive about yourself and ideally the person Which I originally wanted to put out.
This will lead to self-empowerment and can lead to the empowerment of others.
There is no point in tearing others apart. There will always be someone fitter, more athletic, and leaner, but remember that you also have strengths! And the person you are jealous of also has weaknesses. Strengths and weaknesses are part of the human condition for everyone.
With all that being said, I sincerely encourage compliments to my female fellow kickers at the gym.
We all need to do a better job of uplifting each other—especially when the media is constantly trying to rip females apart and make us question.
is contained
I hope all the women reading this article will gain a sense of brotherhood and increase self-esteem as well as gain a better understanding of why some fitness myths are wrong.
If you have any questions or comments about fitness tips for women or anything in general, please do not hesitate to reach out to me.
I wish you all a nice day! As usual, thanks for reading, and stay tuned!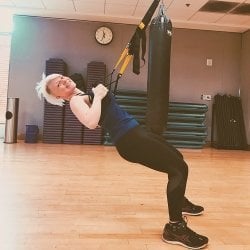 Latest posts by Alexis Mallery
(show all)