Sharing a recap of our 7-night Mediterranean cruise (Italy and Greece) on Disney Dream! This isn't sponsored (I hope, lol), but I'm excited to share our experience.
They have a handy little trick when you're on a Disney cruise: You have the option to book a placeholder for a future cruise at a slight discount. This way, when you get off the ship, it's a little less frustrating because you know you'll be on another ship soon. We busted out of the Disney Dream in Rome a few weeks ago, and really, we can't wait for our next Disney cruise.
This was Disney trip #4 (we've done it in Alaska, the Bahamas, and Mexico), and it was our favorite. It was a mixture of destinations plus the larger ship, which was a dream come true.
(We also got to enjoy Rome on both sides of our cruise! You can read about our Rome adventures here.)
7 nights Disney Dream European cruise
We arrived at the port of Civitavecchia via a private car that the hotel booked for us, and it was the fastest and smoothest boarding experience. By 1:30pm we were at the pool, watching the kids swim and drinking cocktails with friends. (Pro tip from one of our good friends: Pack your swim gear in a carry-on bag and check everything else. Your room won't be ready yet, so you can head straight to the pool. It'll be less crowded for the whole trip and after a few hours, your room will be ready with all your luggage waiting for you outside the door.)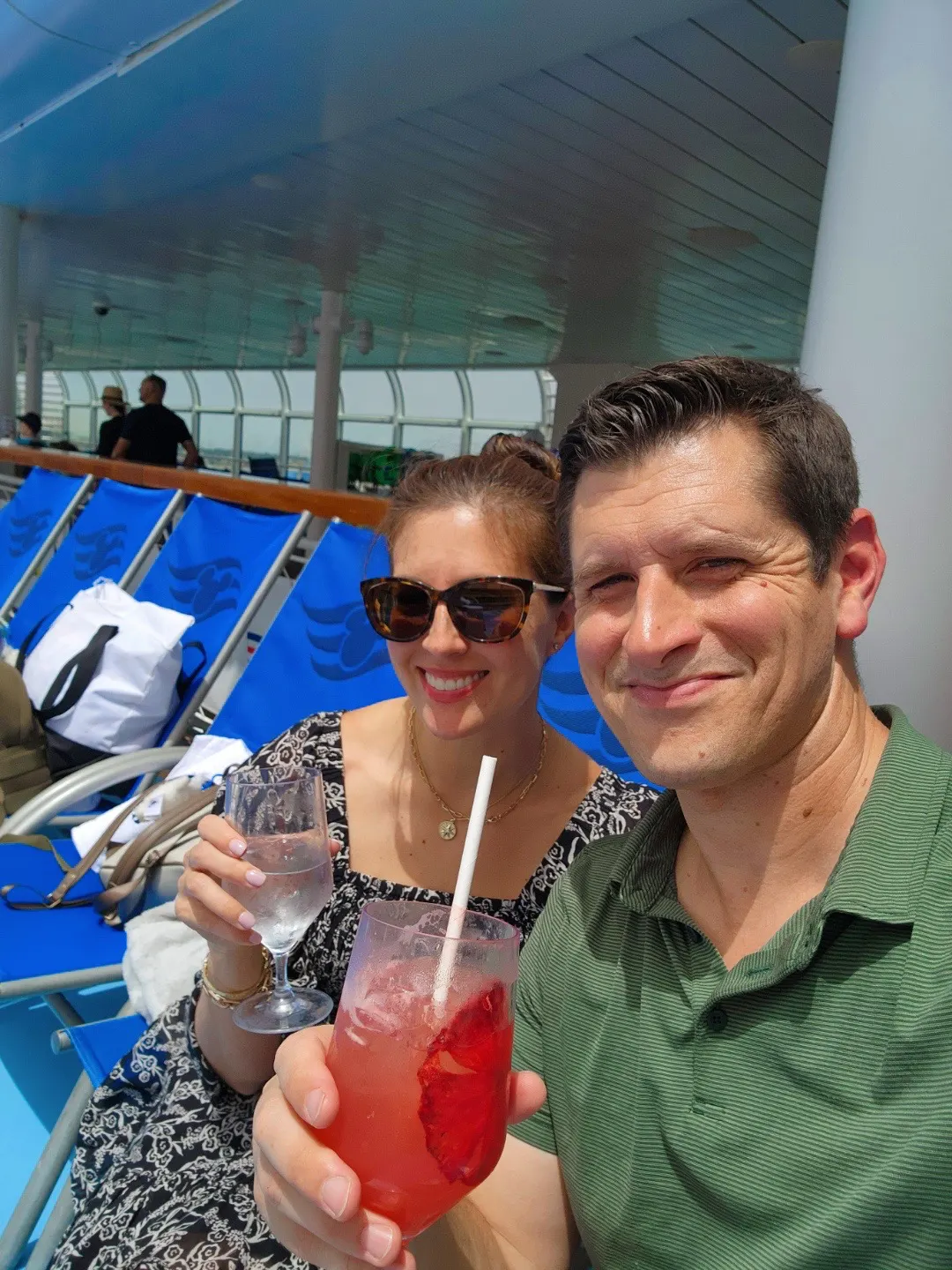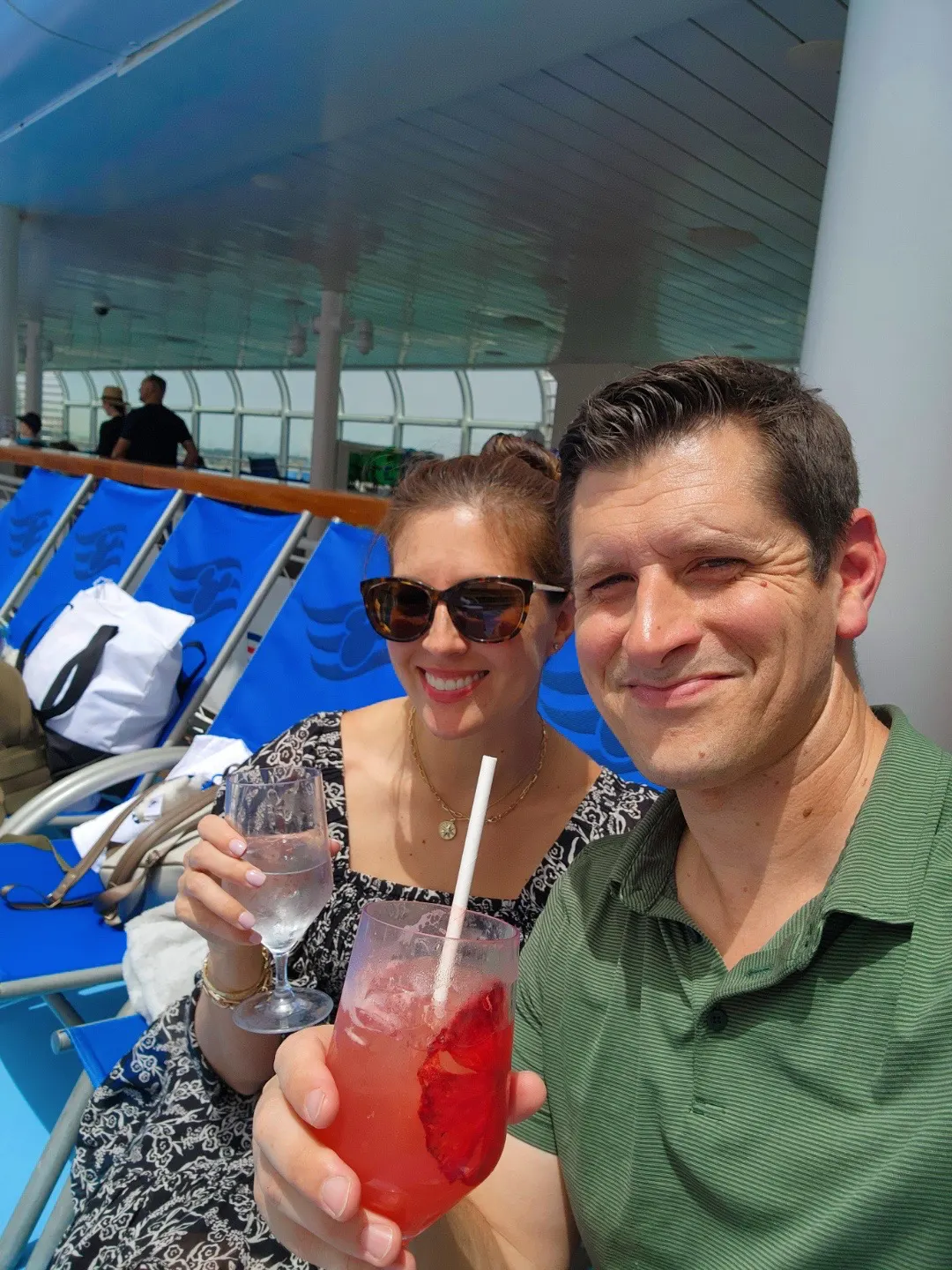 We had lunch from the Cabanas (buffet) and ate it poolside, checked out our room, then changed for the Muster Drill party, Sail-A-Wave party, and dinner.
On Disney cruises, you're in turns eating. You can get early (6pm) or late (8pm) seating and alternate restaurants each evening. You can opt out of more formal dining for a quick meal or room service instead, but no matter what, your table will be waiting for you. You also have the same server and co-server every night. We had an early seating, and dined at all the main restaurants. All menus were very similar to previous cruises and it was beautifully plated Disney fare that we love. 🙂
You can also order whatever you want. You can choose from the 4-course set menu, or order two appetizers, two appetizers, etc., if you feel like it. They said they ate the best Indian food and curries of their lives this way, along with rice and rice. We haven't tried this yet – I feel bad we're going to upset them – but I was curious about trying it.
Our favorite is Animator's Palate, which they have on all the ships we've seen (Dream, Wonder, and Magic). You draw a person on the tablecloth, and during the meal, they have *a show* in which all the cartoons are shown on big screens throughout the restaurant, dancing to music, and superimposed on famous Disney scenes.
On this particular trip, we made a stop Naples, Mykonos, Santorini and Chania, And we planned excursions in Naples and Mykonos. The rest of the time we enjoy exploring the ports on our own and live our best cruises on board.
Excursion 1: Positano, Sorrento and Pompeii
This ride was about 10 hours long, which was definitely a long ride for the kids, but well worth it. Also, in the middle we were treated to an epic 4 course meal with wine pairings, overlooking the ocean.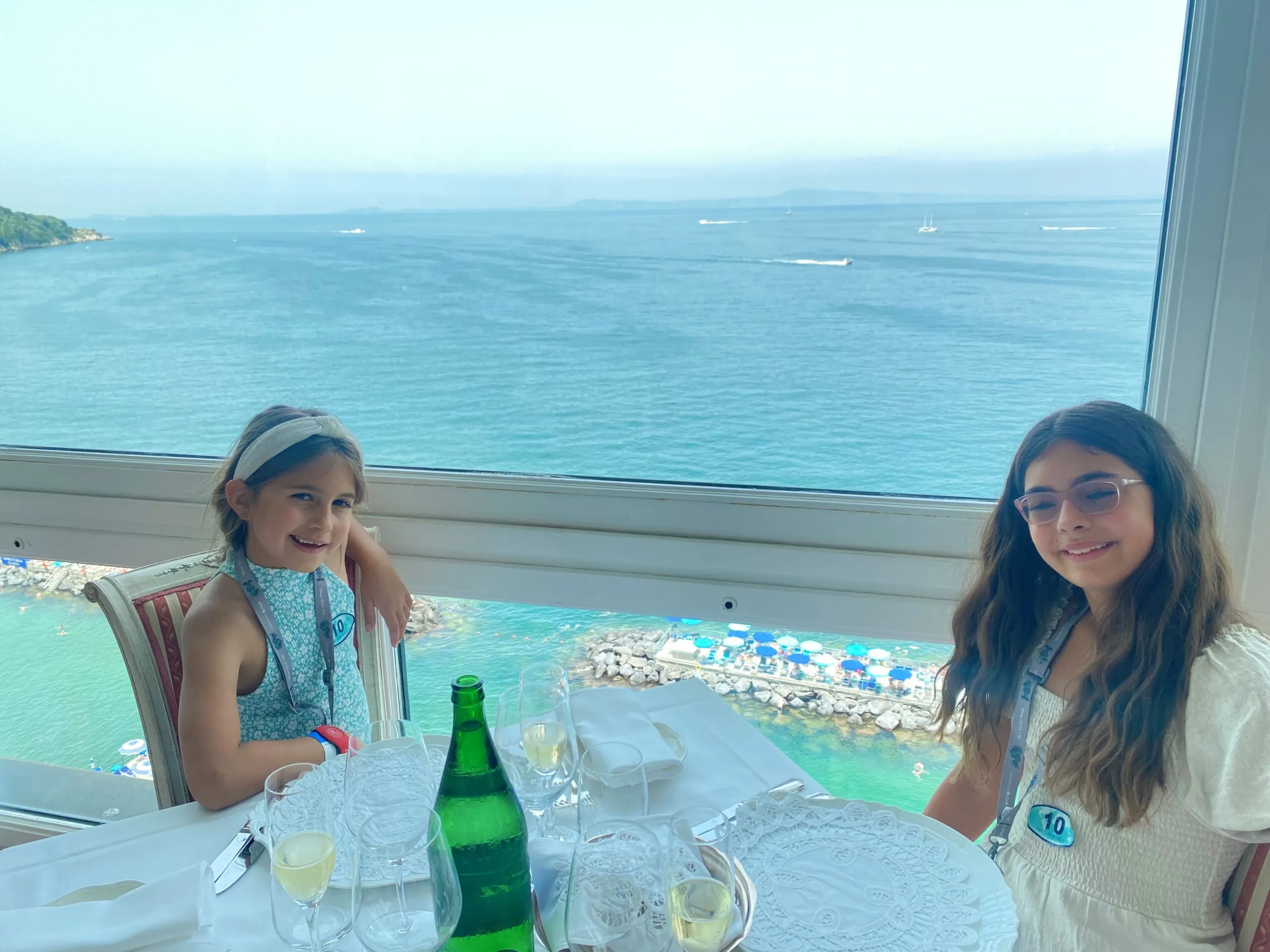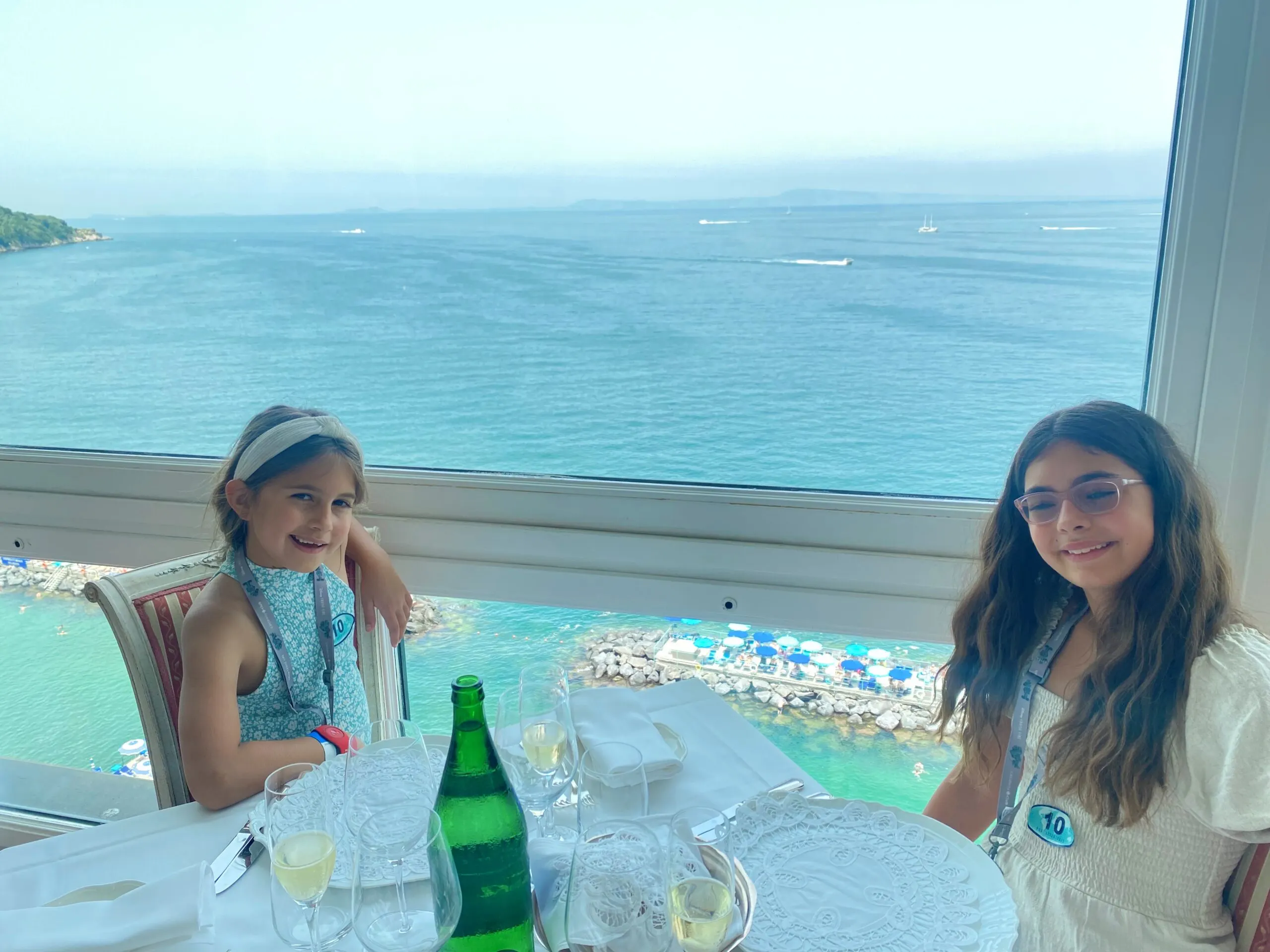 Positano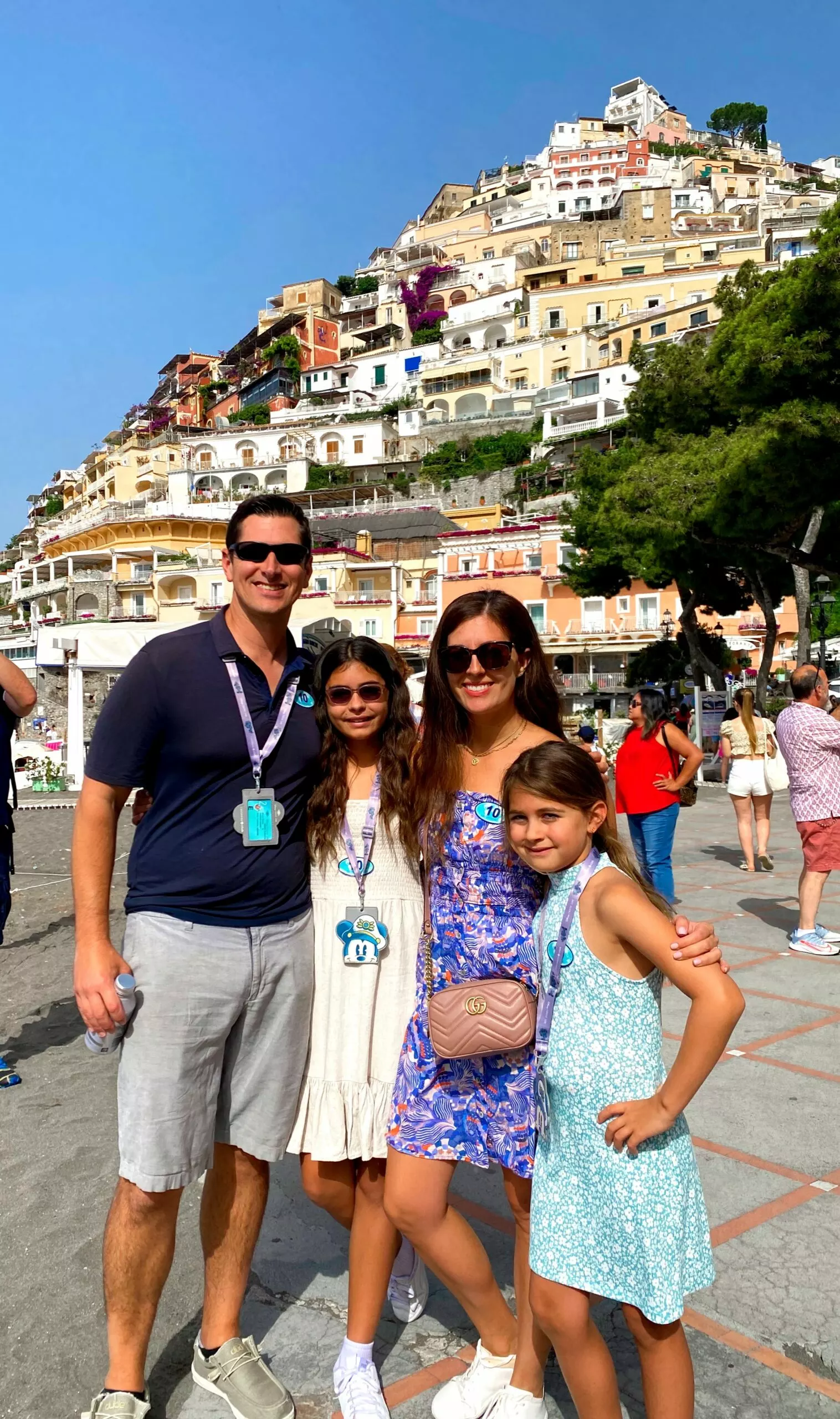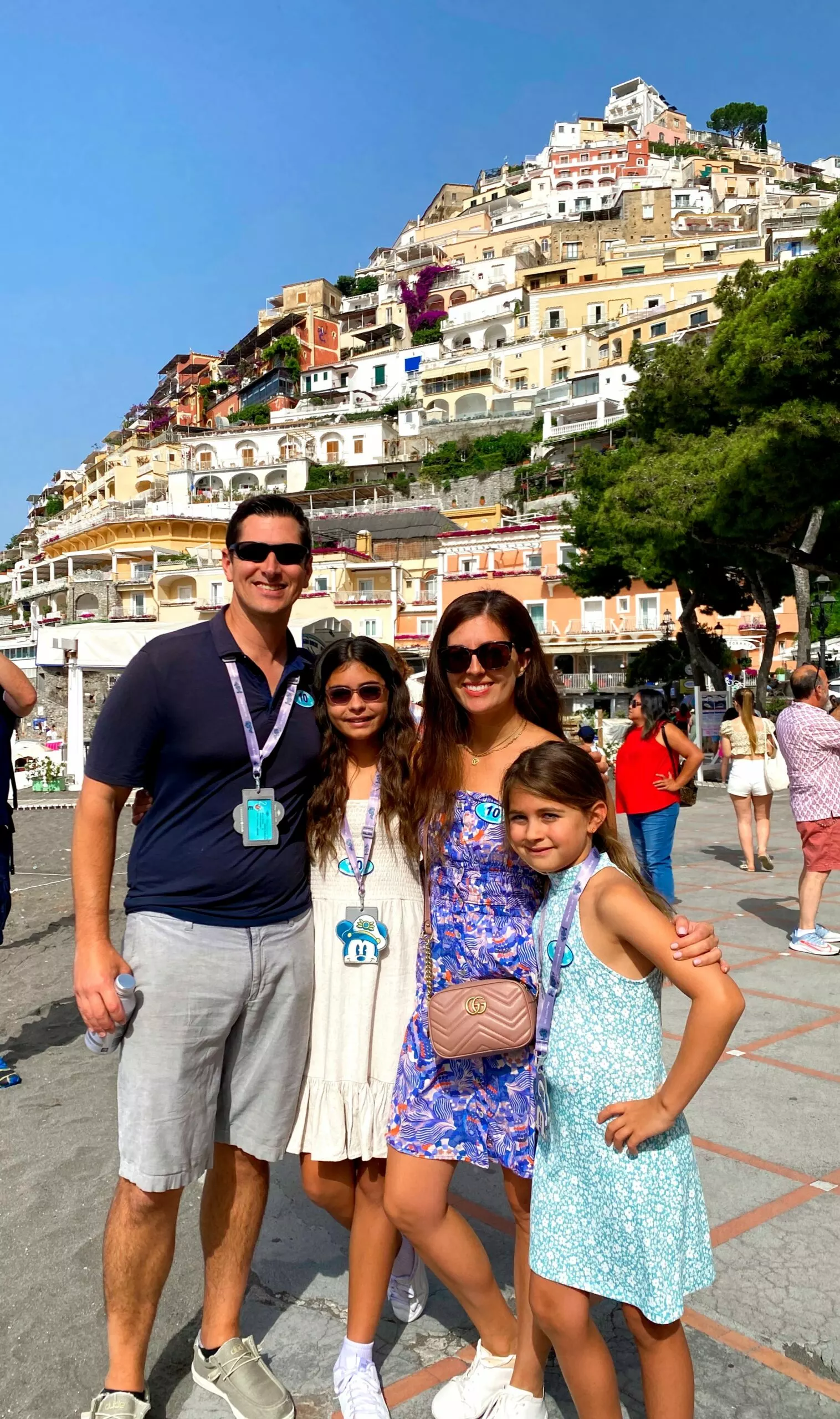 Positano is one of my favorite places in the entire world, so of course, I couldn't wait for Show Girls. I just wish we had more time there! We had the chance to get a chocolate croissant and coffee, put our feet in the ocean (it was so warm and beautiful), and do some shopping. (I highly recommend Luisa Positano! Liv and I got dresses from there and they are so gorgeous and unique.) It was probably a good thing we were on a limited time, because I wanted to buy everything. 😉
Sorrento
After Positano, we returned to the bus for a longer stop in Sorrento. It was my first time visiting Sorrento and although it had a Positano feel to it, it was a bit noisy, especially on the main street. We shopped and walked around, grabbed gelato, and then met up with our tour group for an Italian meal I'll never forget.
This is where we had our famous zucchini pasta, along with chicken, salad, bread, and chocolate-hazelnut mousse.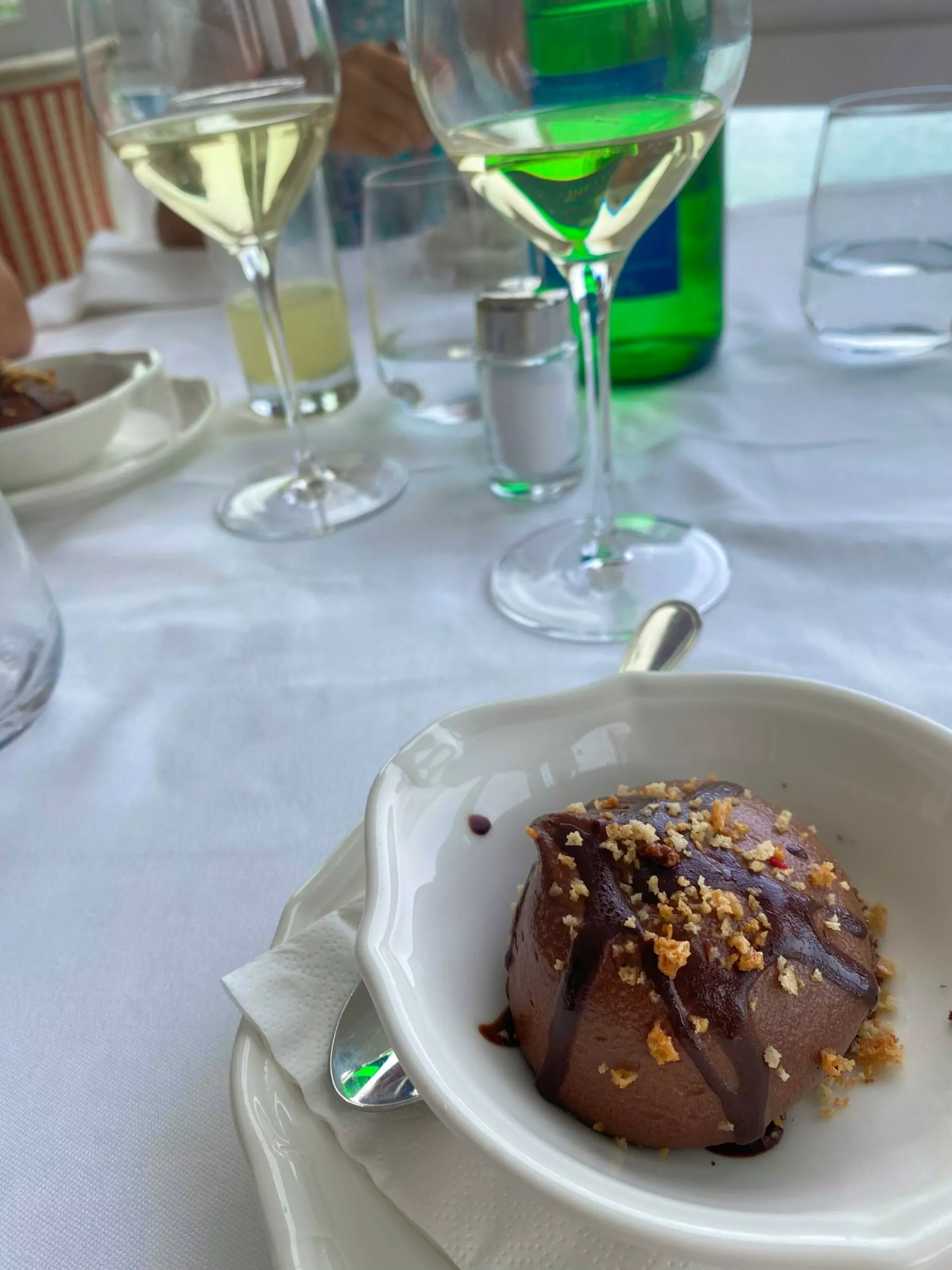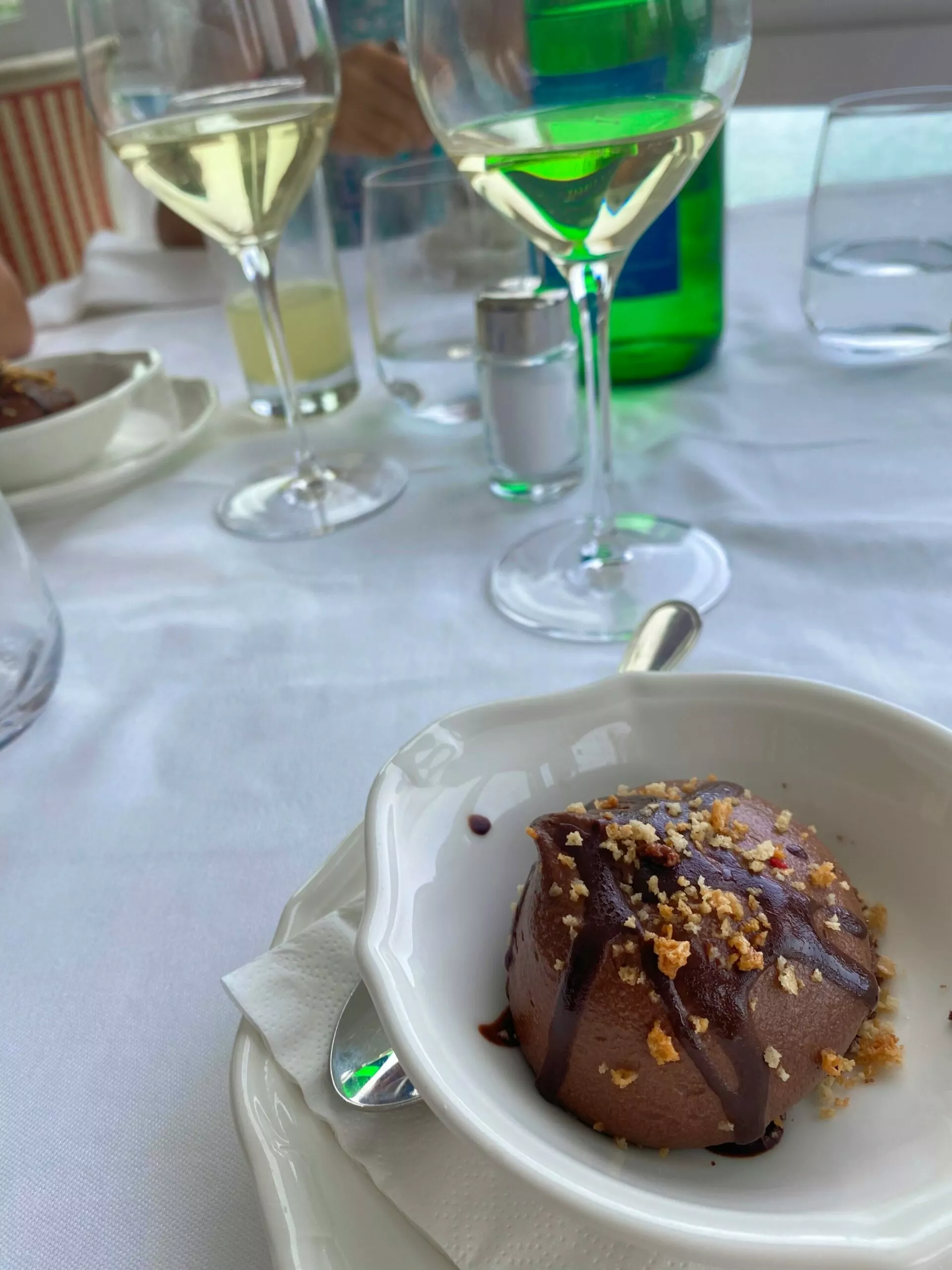 The meal was paired with sparkling wine, white wine, red wine, and dessert wine. Almost everyone in our tour group fell asleep the entire trip to Pompeii.
Pompeii
Pompeii was very cool. It was great to see such a well preserved ancient city, as well as the various aspects of life in Pompeii, such as the bakery, the baths, etc. By this point, the kids were very tired, but pulled together! We learned a lot during the guided tour and from here it was only 45 minutes to the cruise ship.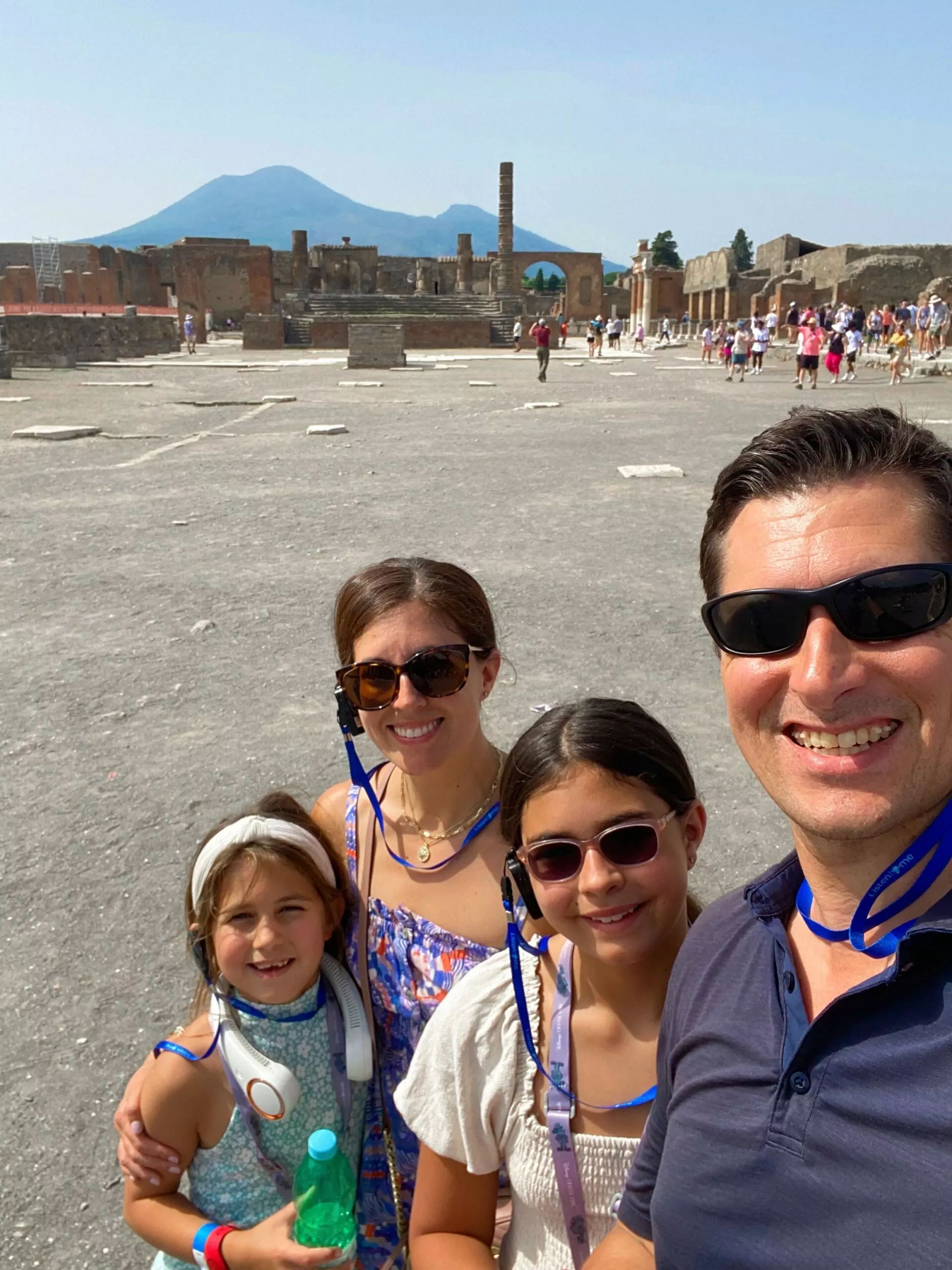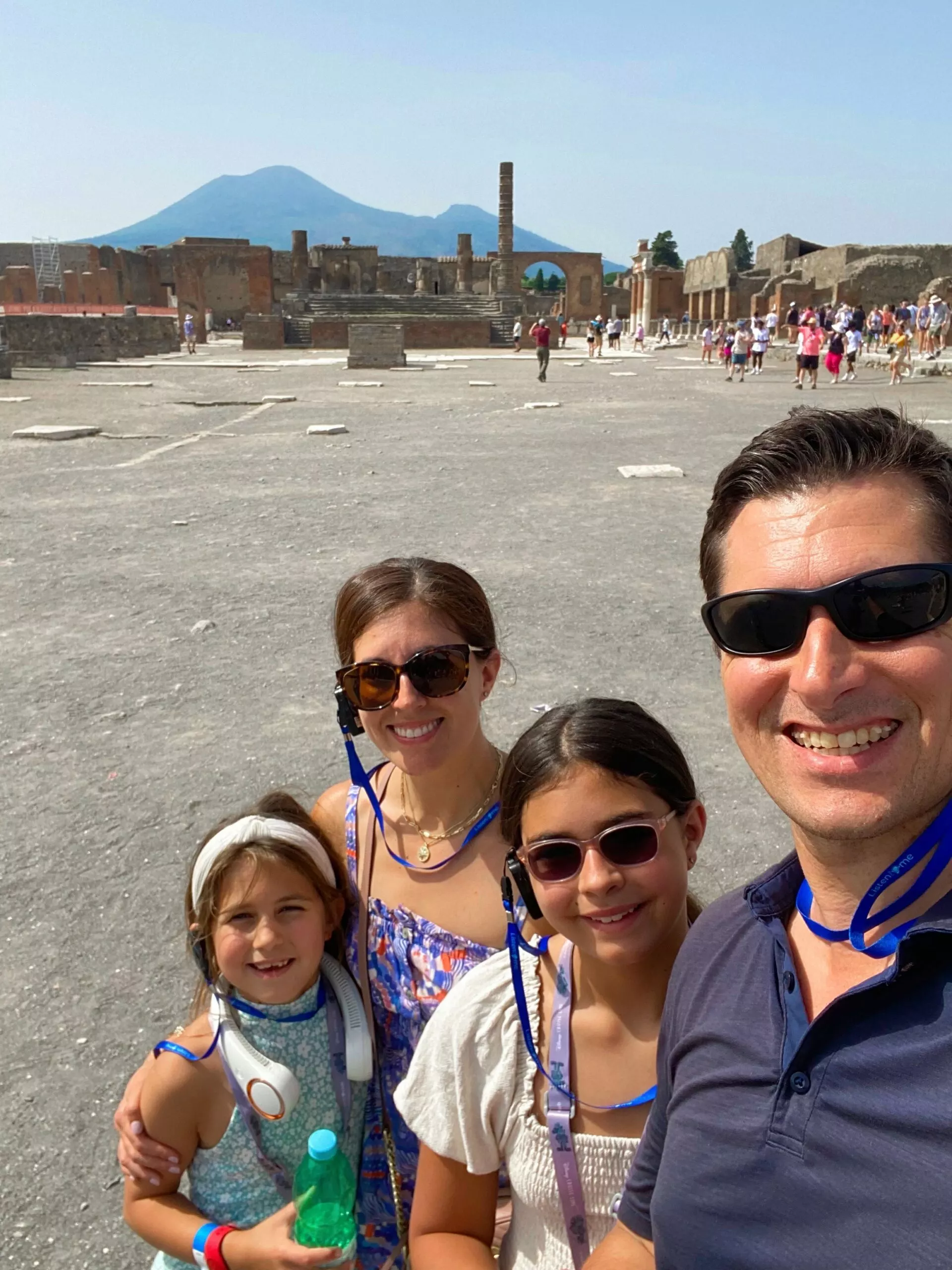 Excursion 2: Super Paradise Beach Day in Mykonos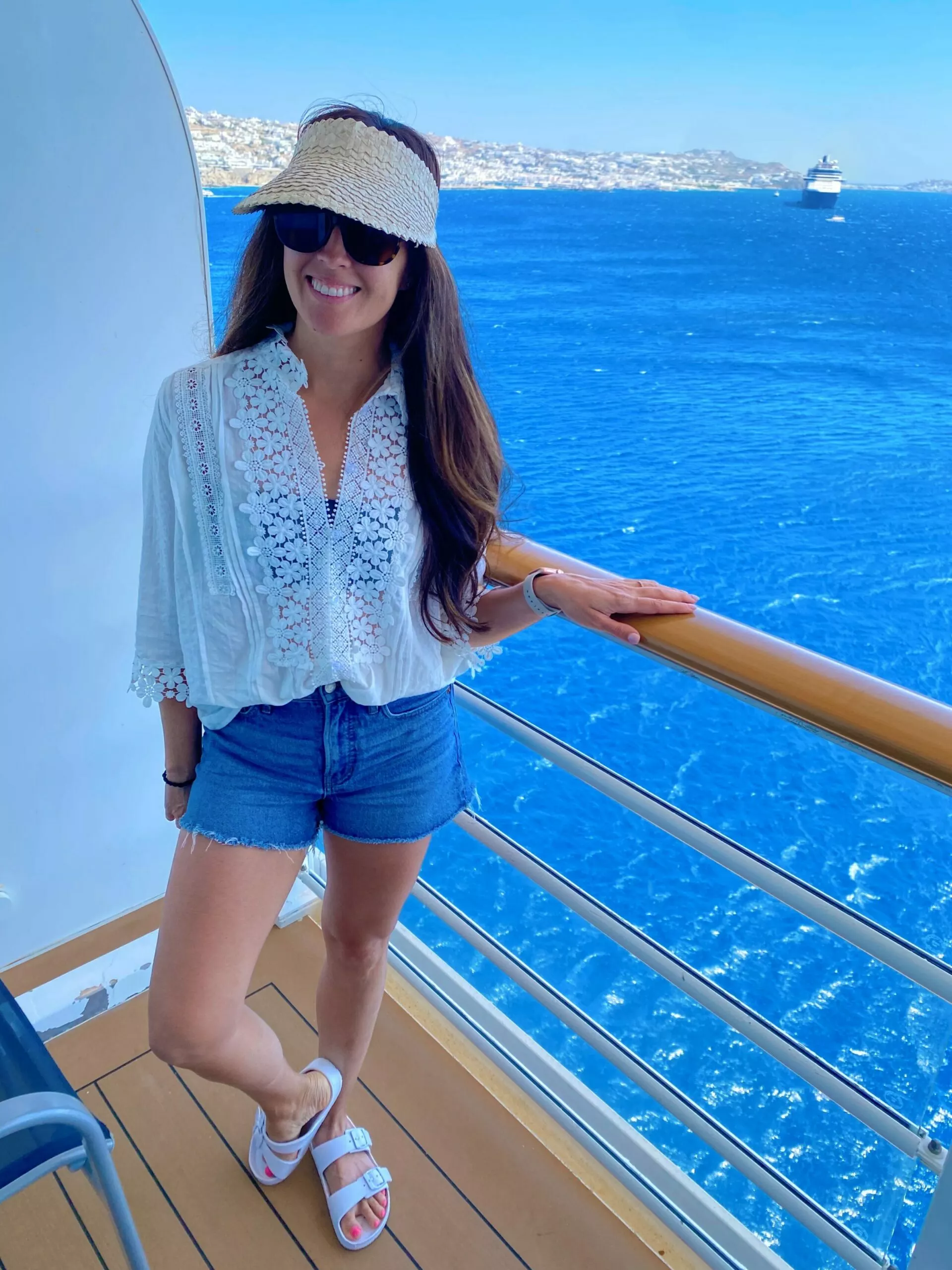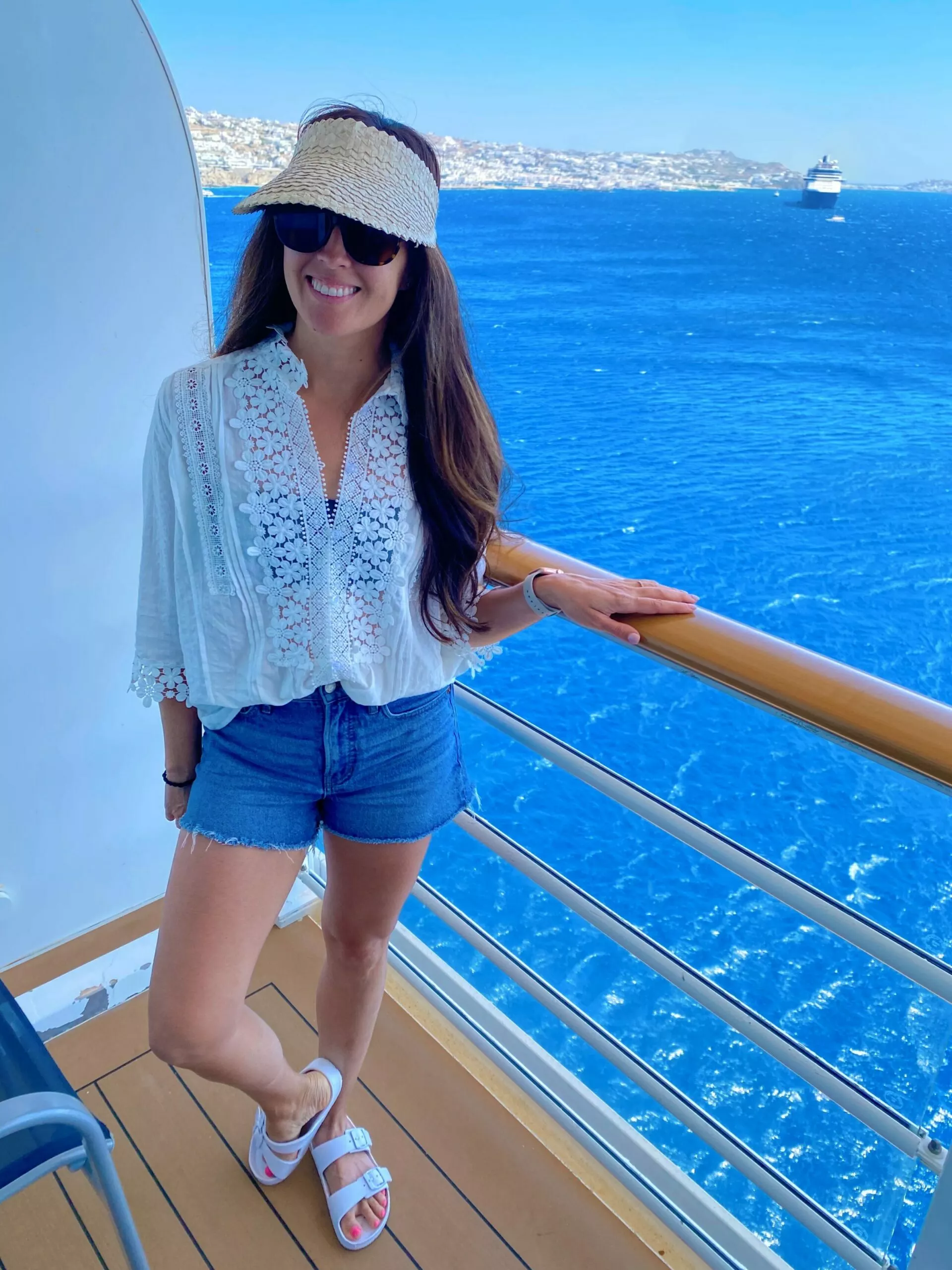 This was our favorite trip. Super Paradise Beach is a private beach club with deckchairs, umbrellas, a full menu, and a calm beach with bright turquoise waters. It was also partially blocked by the high winds that can affect Mykonos.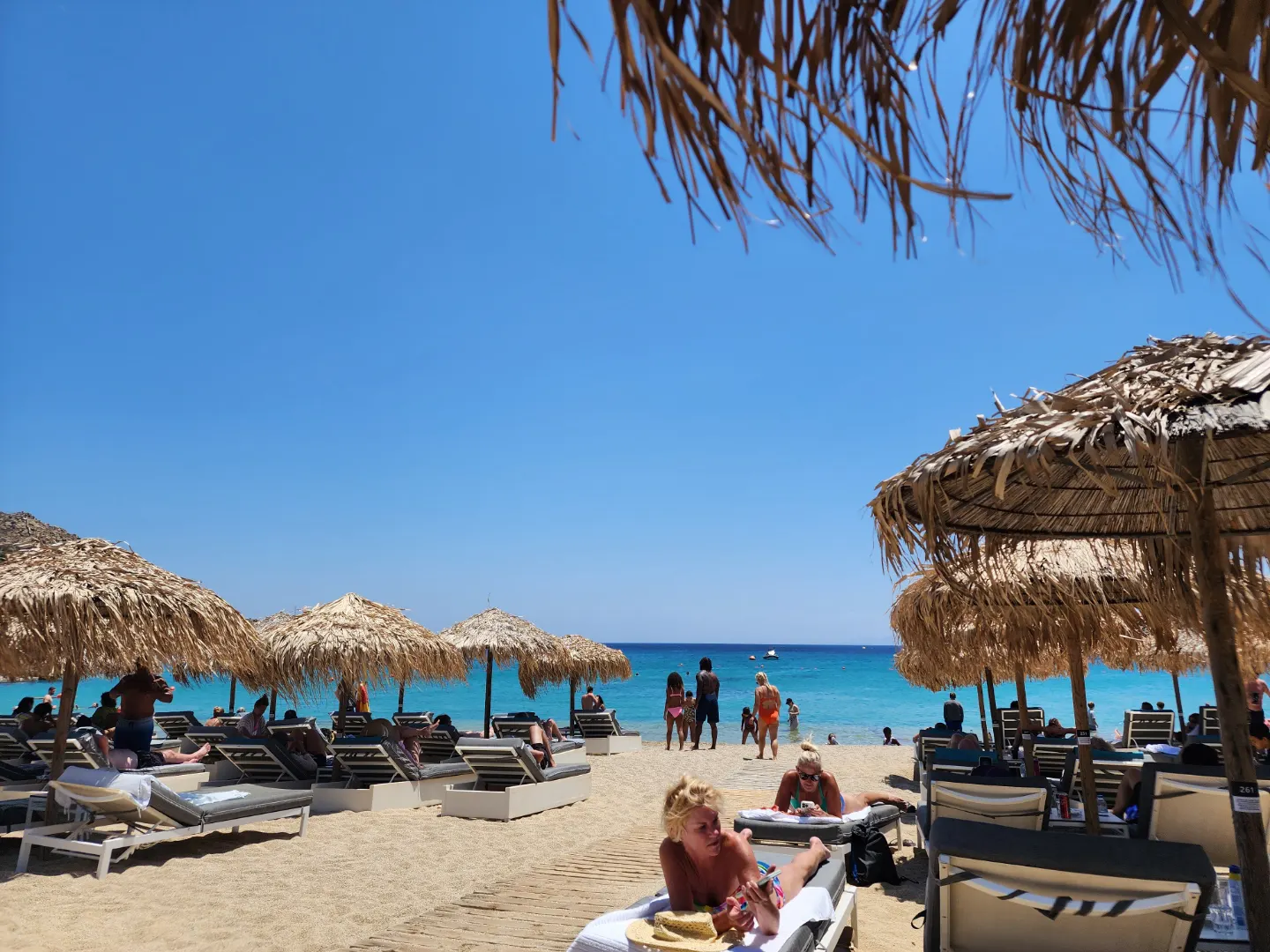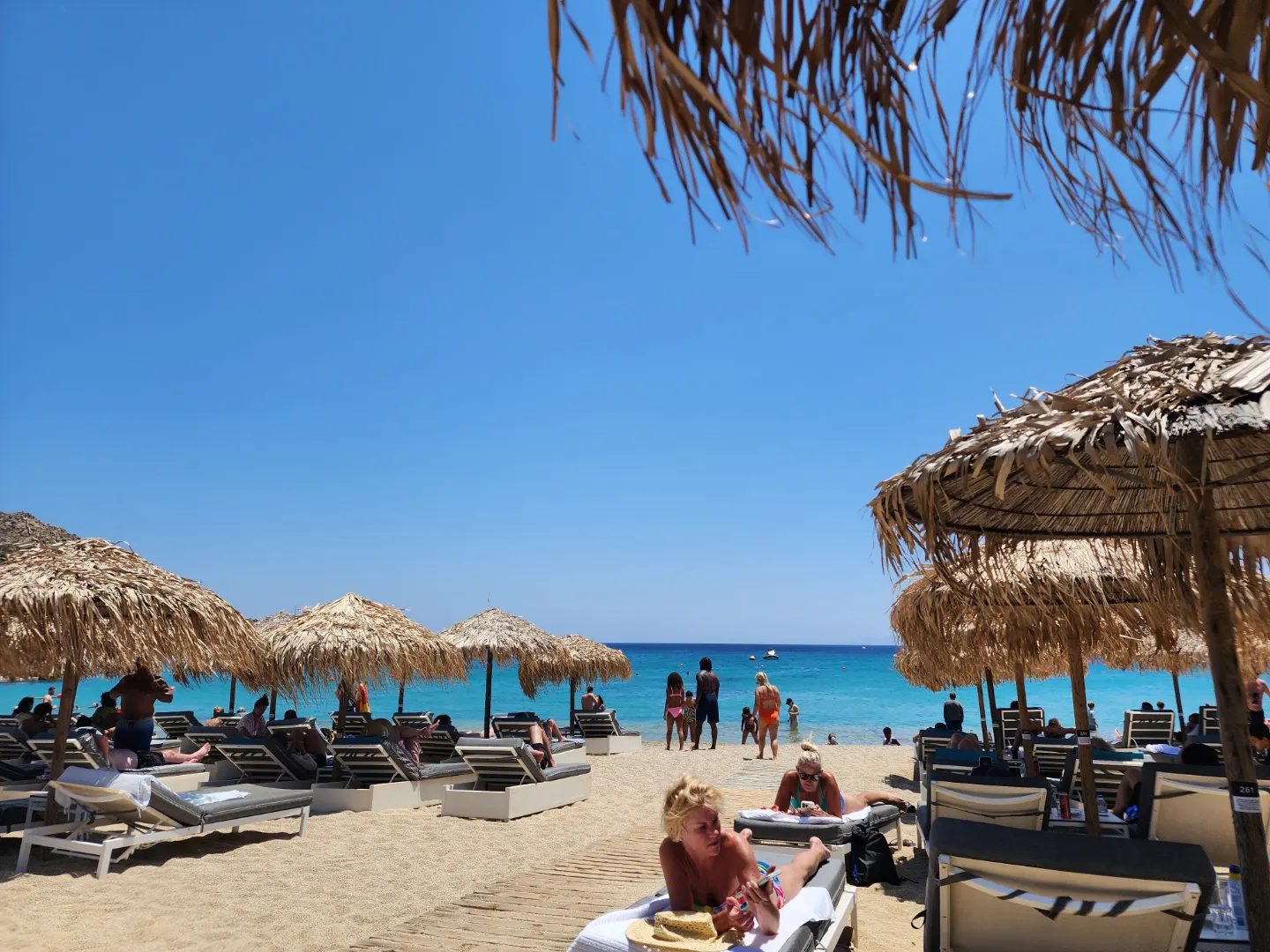 The funny thing is, our Naples trip was time bound—we knew exactly when we needed to get back on the bus or at a certain meeting point—and on this shore excursion, the guide was like, "Eh, have fun and I'll let you know when we need to get ready to leave."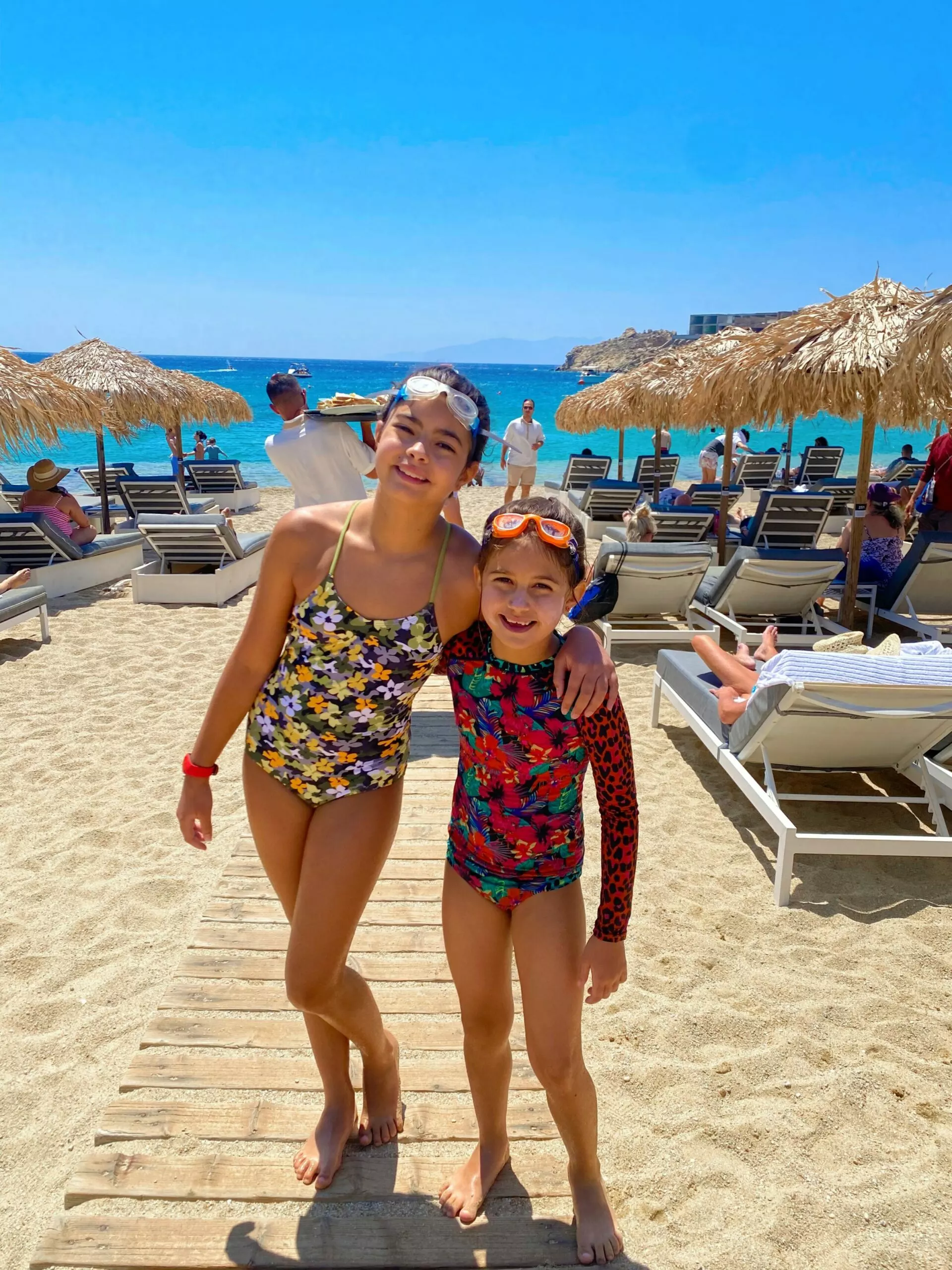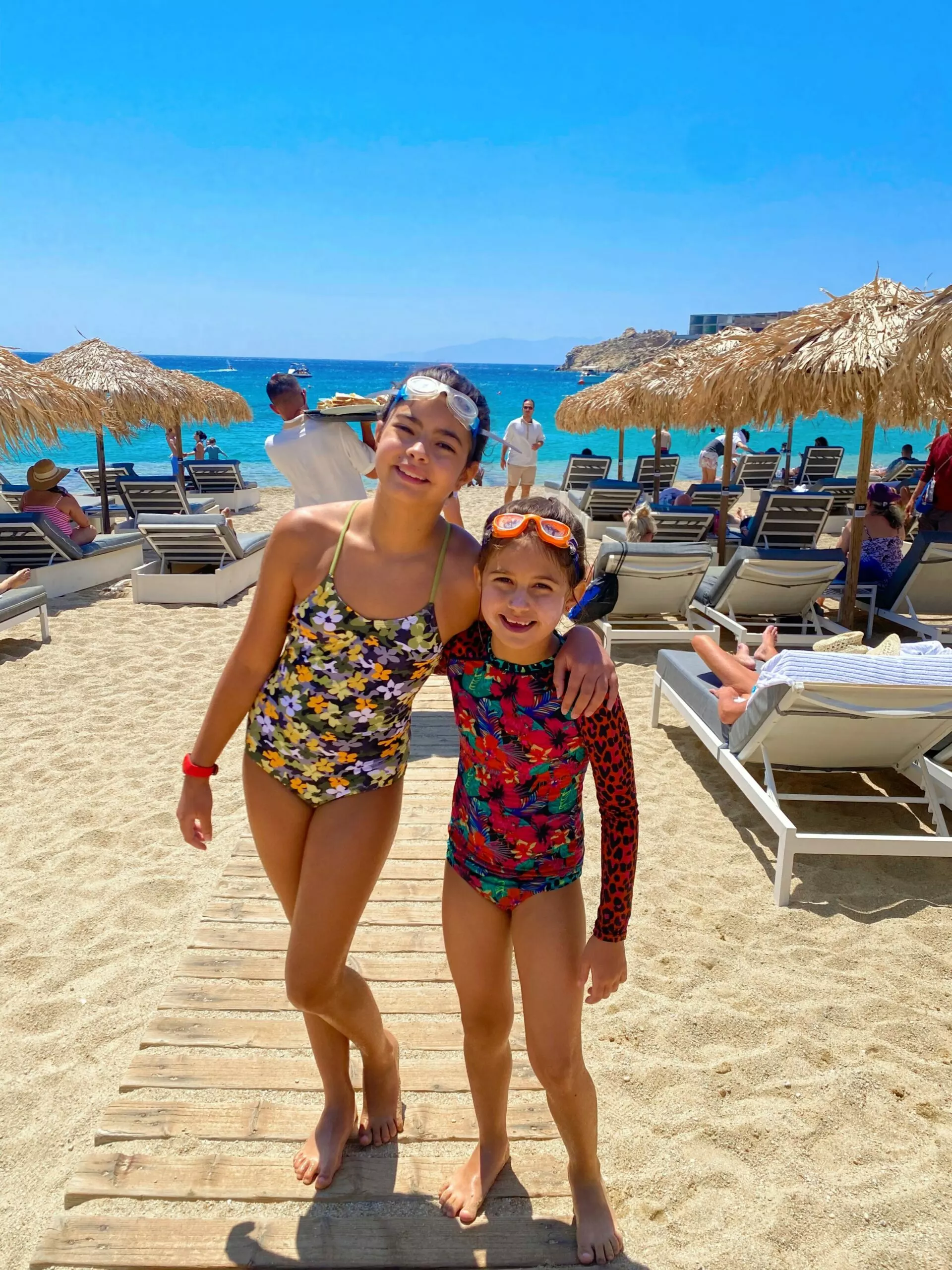 We ended up being there for 3 hours, which was the perfect amount of time. We all swam, the girls played on the sand and waves, and proceeded to order half of the things on the menu.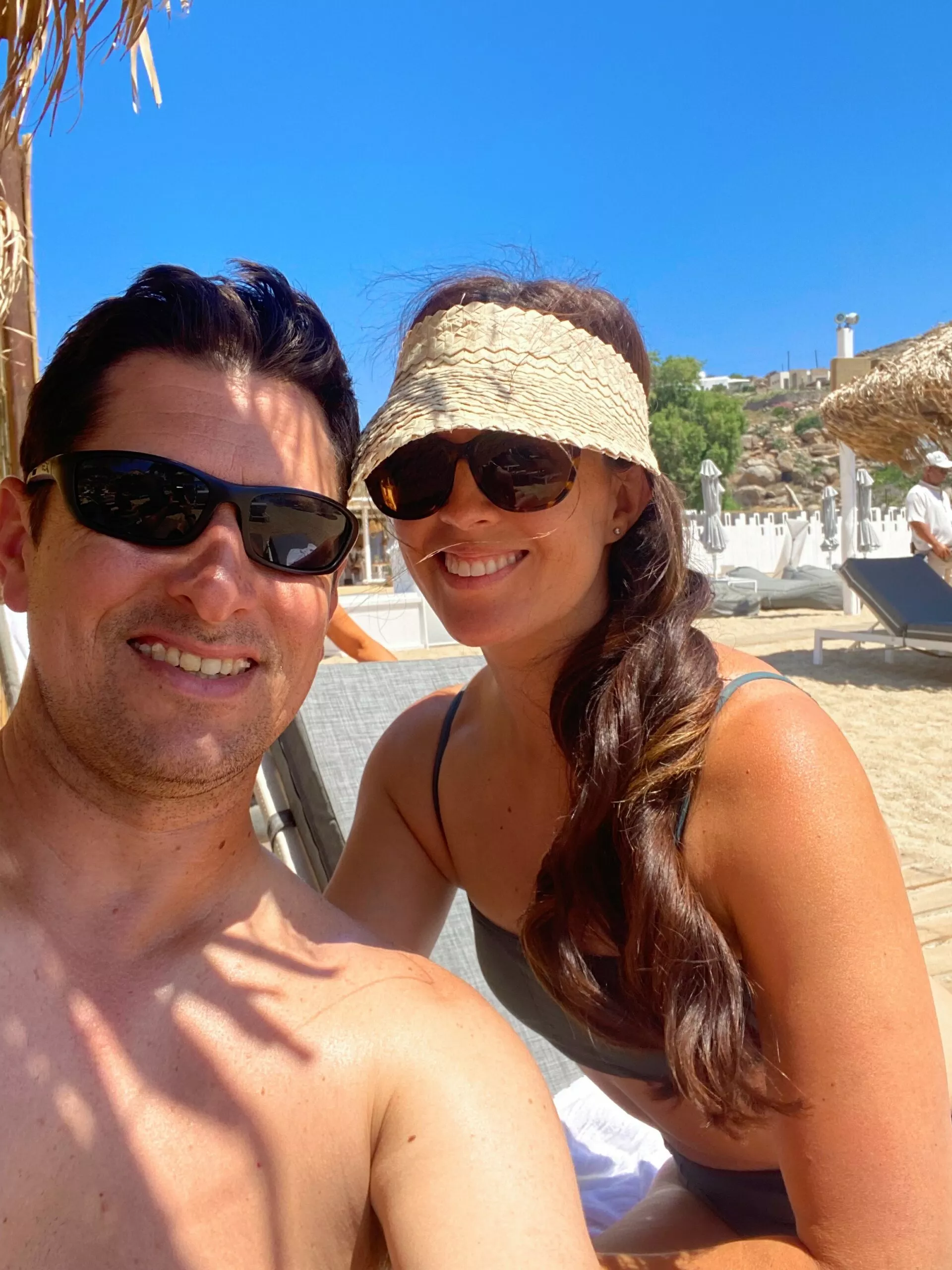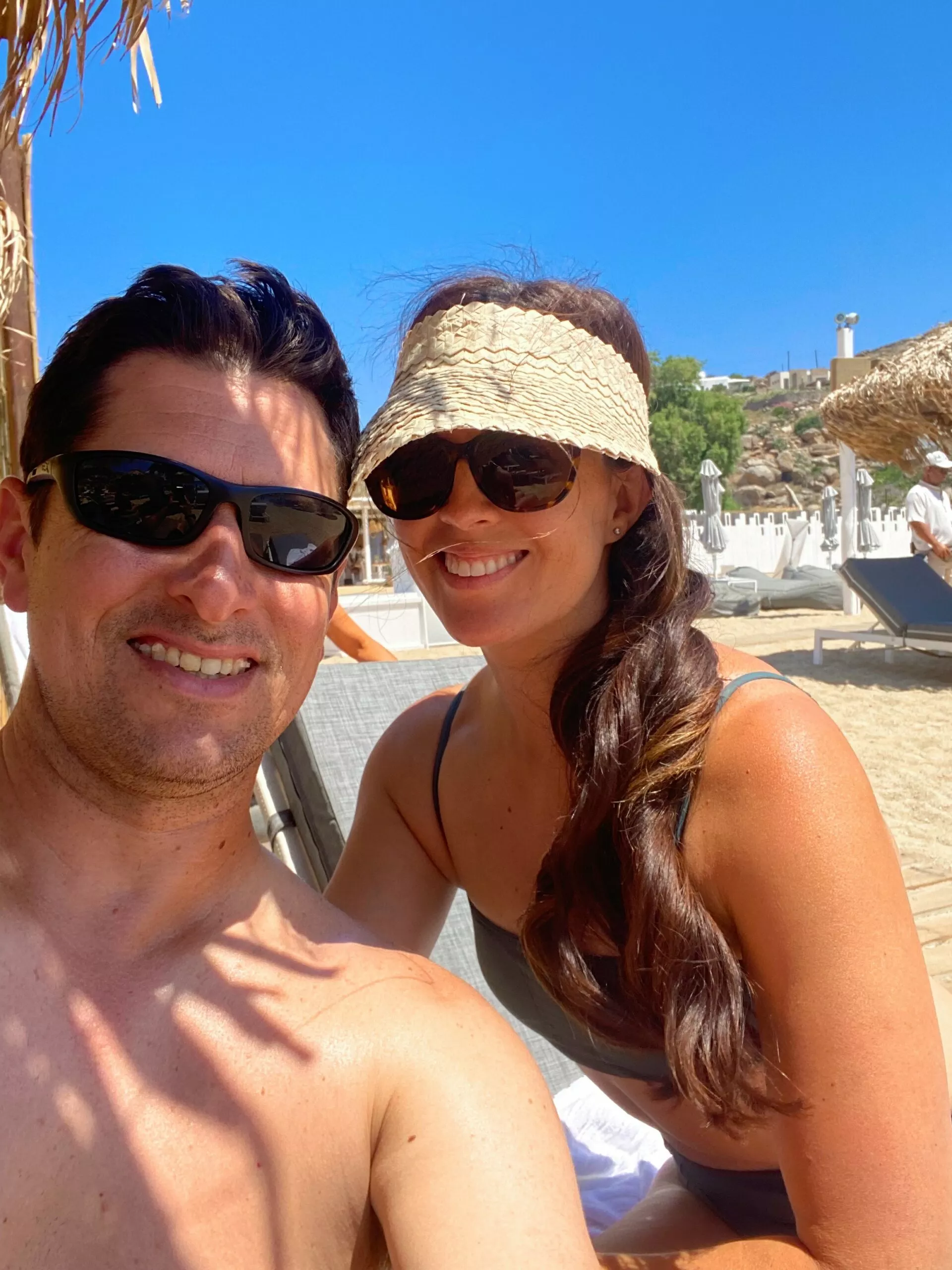 A sandwich was included in our trip, but I'm sure our Greek friends would disown us if we ate a turkey sandwich in their home country.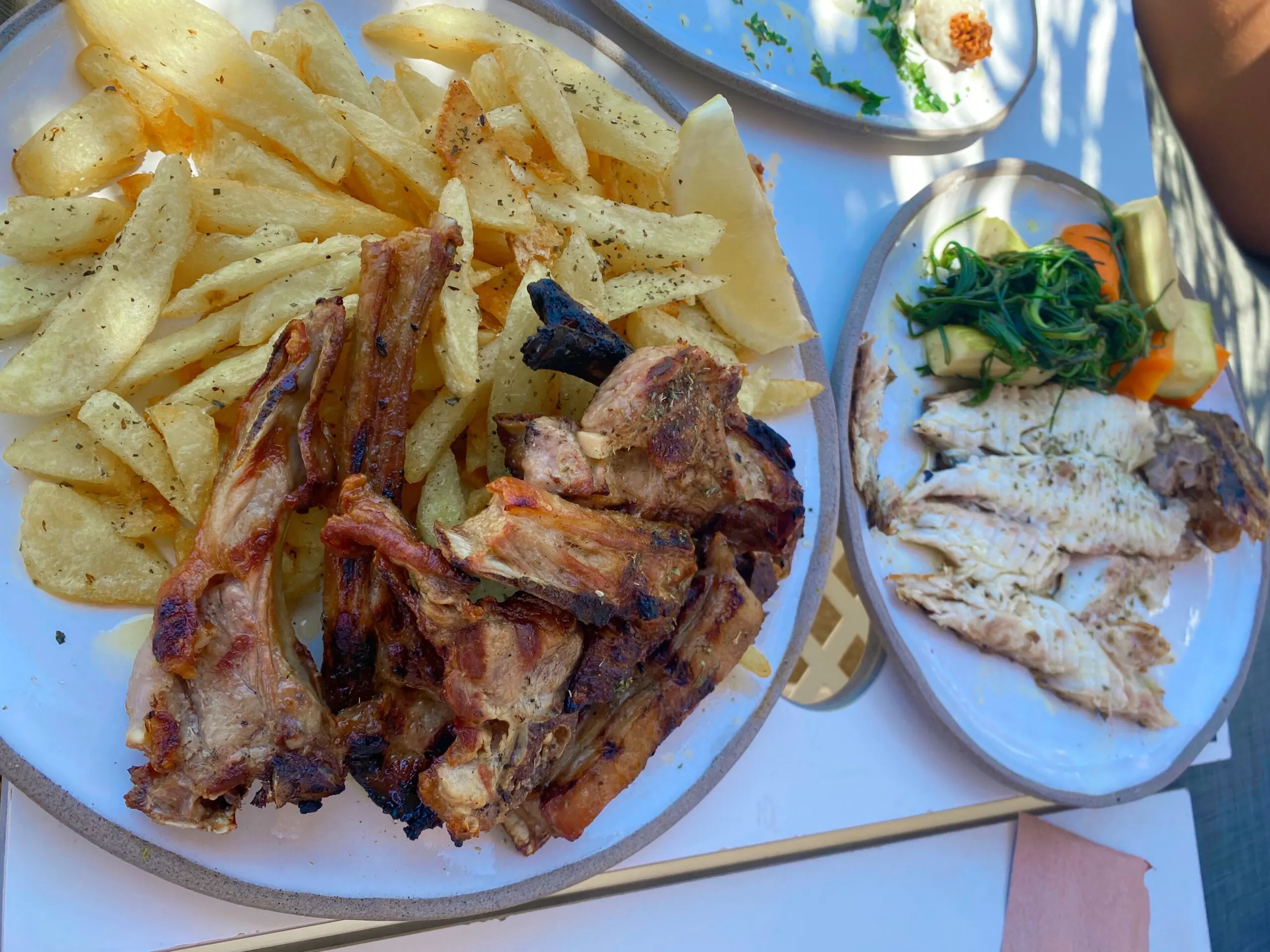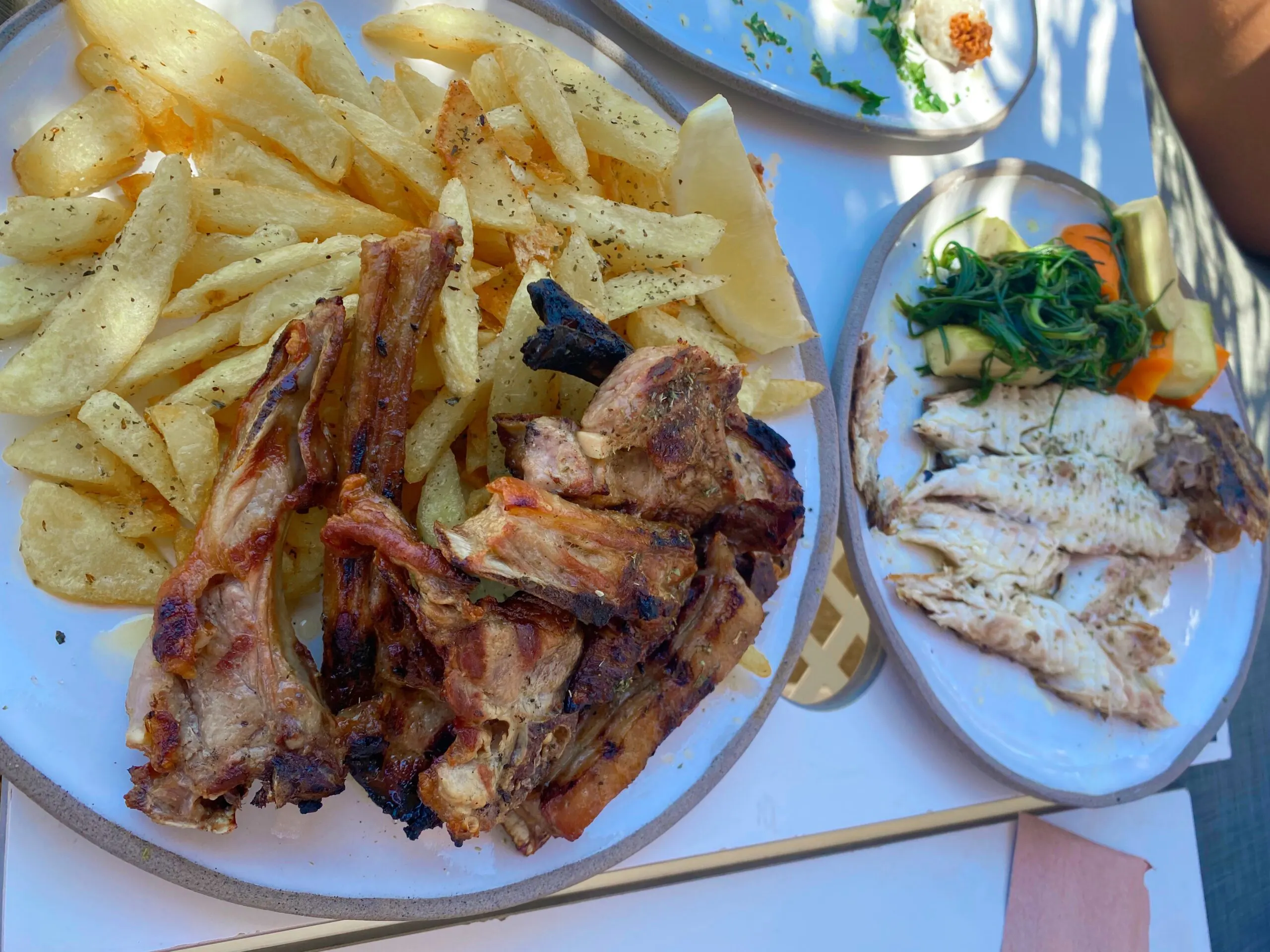 Before we left, they gave us a list of everything we would order while in Greece. The pilot phonetically transcribed the whole thing so we could say it, like, "Gotta have a big booty for you." I think we made them proud. We tried almost everything they suggested between our time in Mykonos and Chania. The food was out of this world incredible. Very fresh, lively and delicious. I highly recommend the Pastitsio, which is like a lasagna noodle with a cheese foam on top.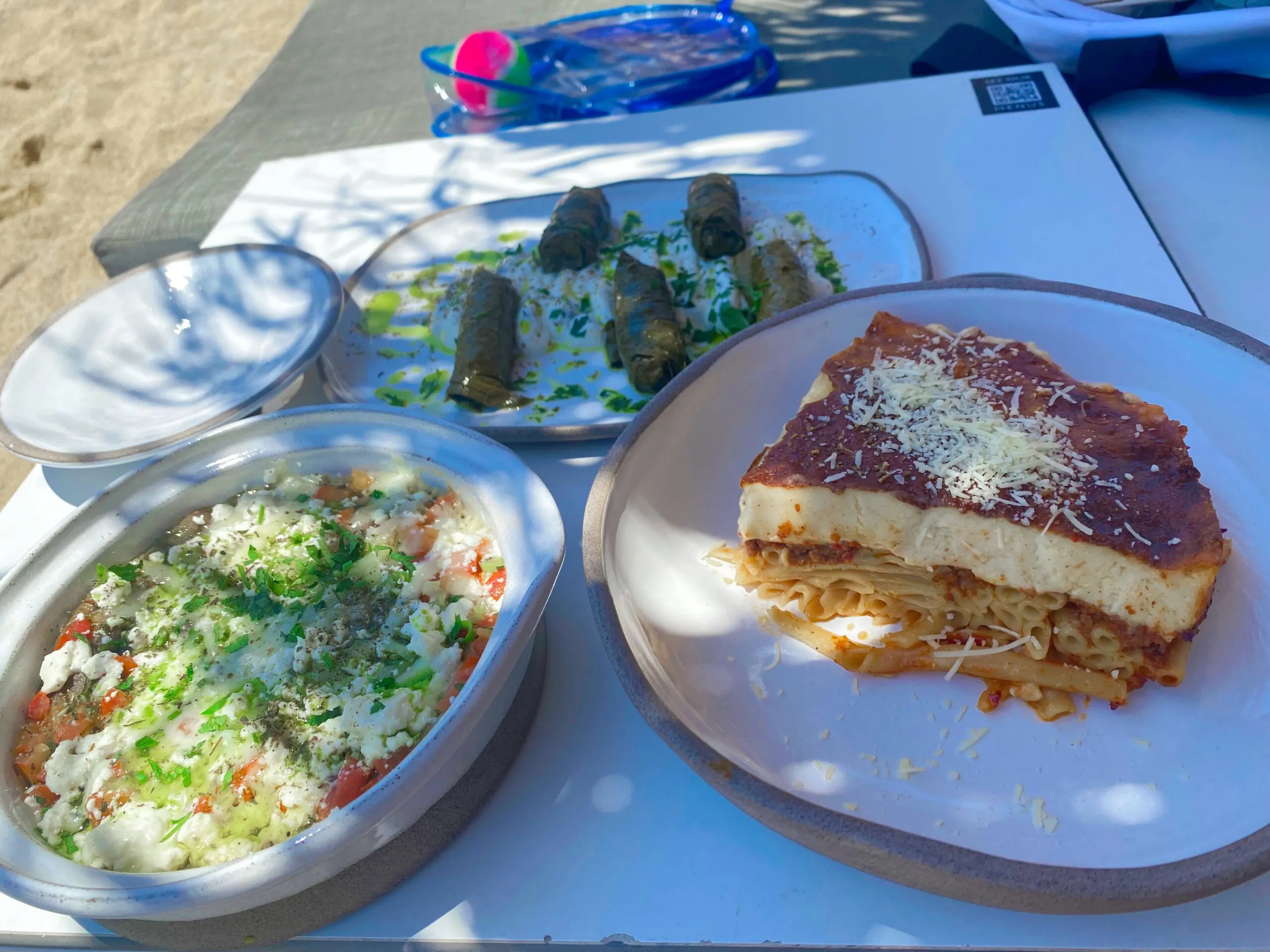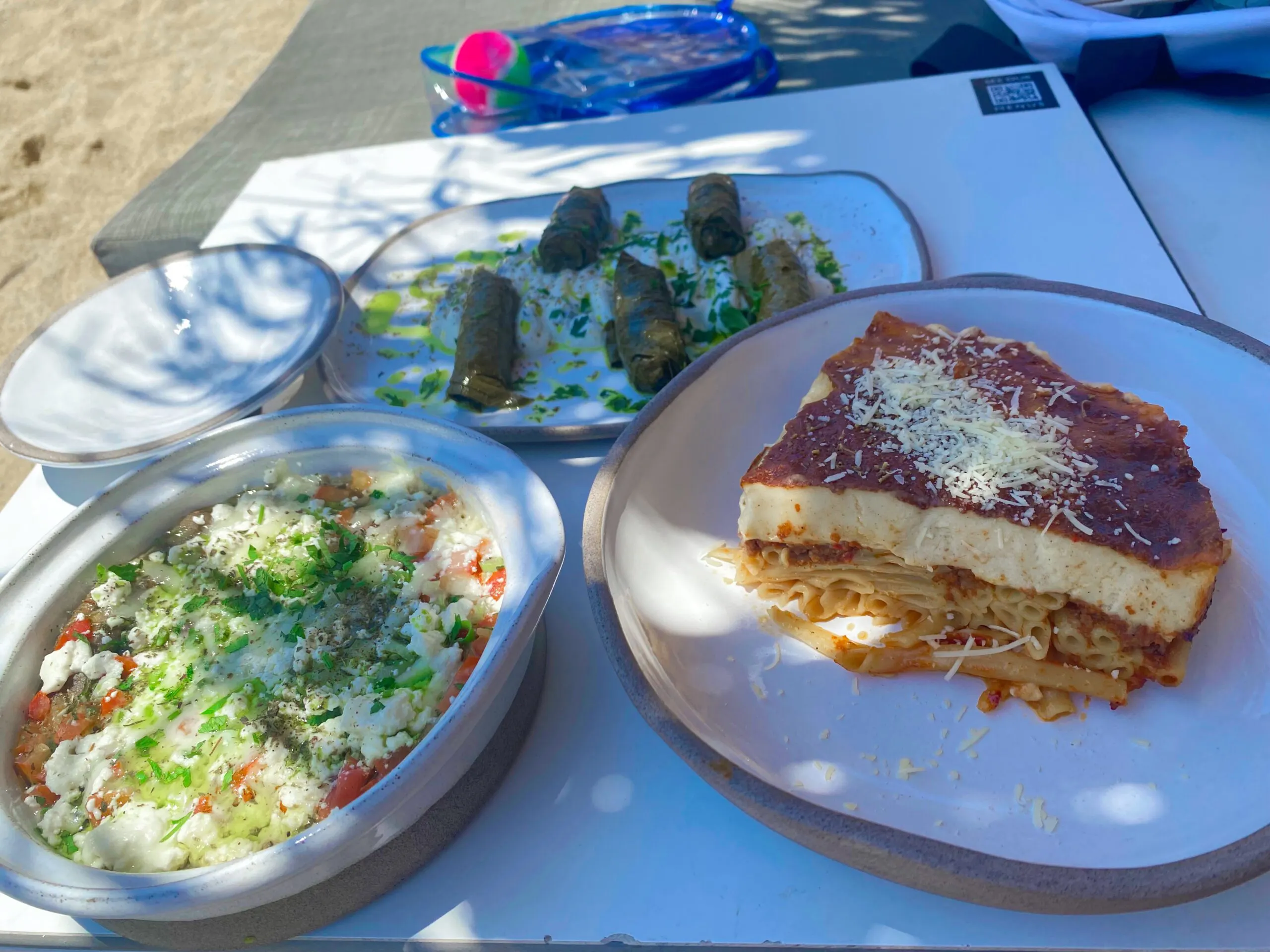 (We also had grilled octopus, salad, stewed garlic greens, stuffed grape leaves, beef patties, and mini cakes)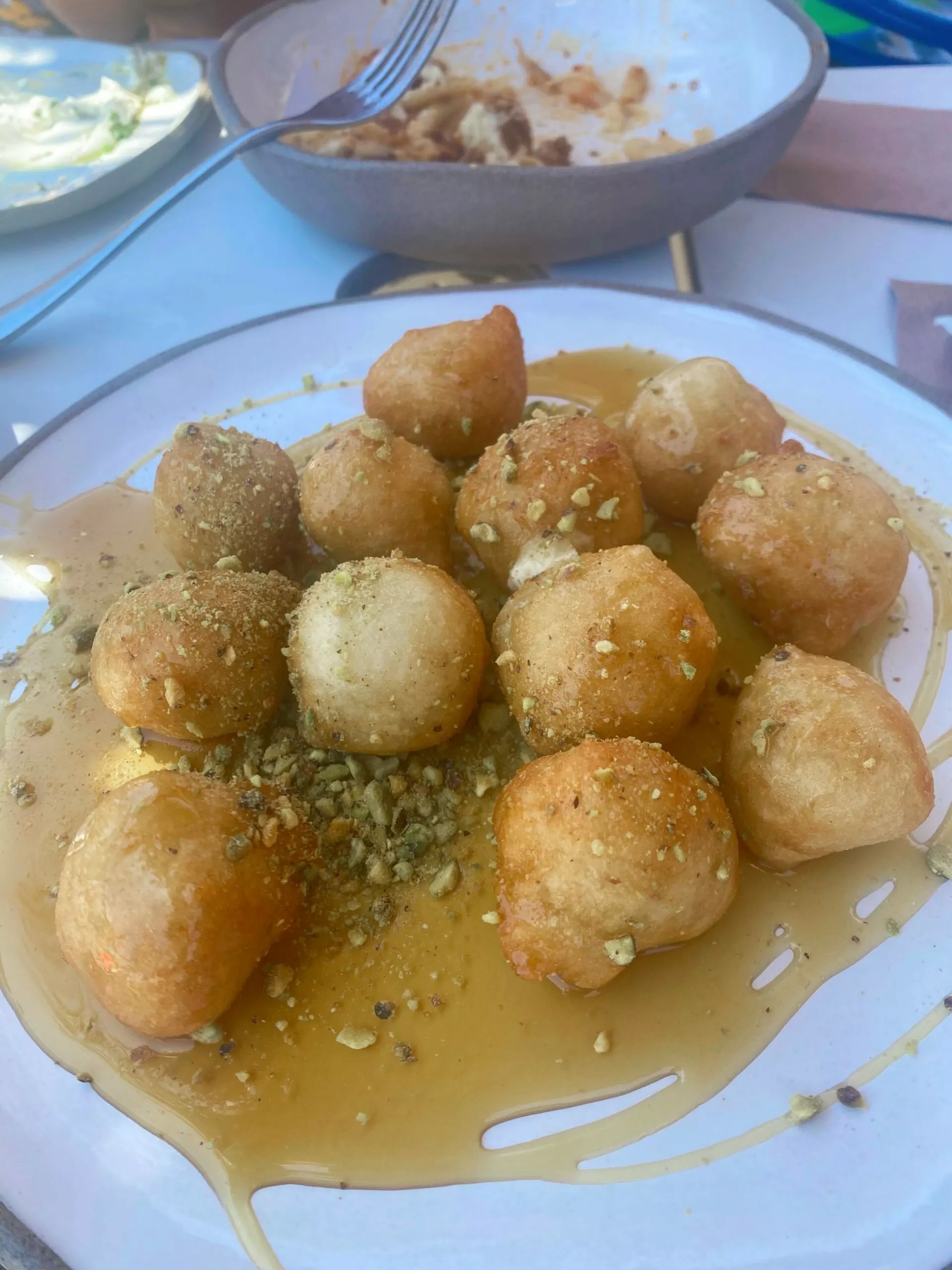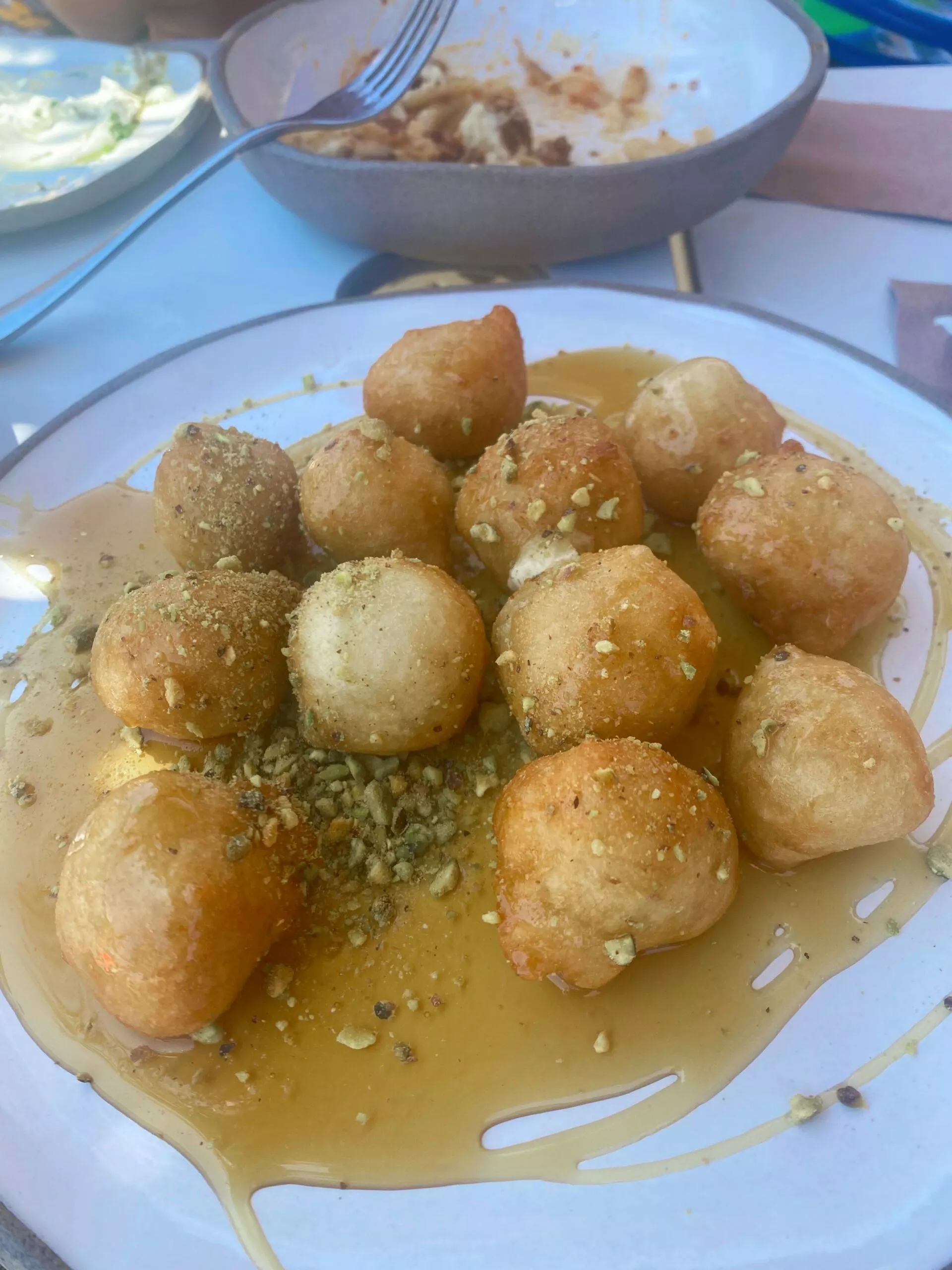 Santorini:
In Santorini, we didn't end up doing much. It's where you can see the famous white buildings with blue domes of Oia, but it was so hot, the kids were melting. It's kind of an unusual port, too. You can take a smaller boat to the base of the port, where you take the cable car up the steep hill to Fira town (lots of shopping and restaurants). You can also take the stairs to the top, but there are more than 400 steps, which may not be realistic for young children or those with mobility difficulties. Our plan was to take the cable car, but go down the stairs at the end of the day.
The cable car line tends to be quite long, without much shade. The line was easily over 200 when we got there and moving very slowly. The girls were dressed neck fans And we were constantly pouring water on them, and it was really hot, so we ended up going back.
If you're stopping in Santorini in mid-June or July, I'd recommend booking a trip with coach transfers so you don't have to deal with the cable car line. Or bring plenty of water + an umbrella, or face the stairs!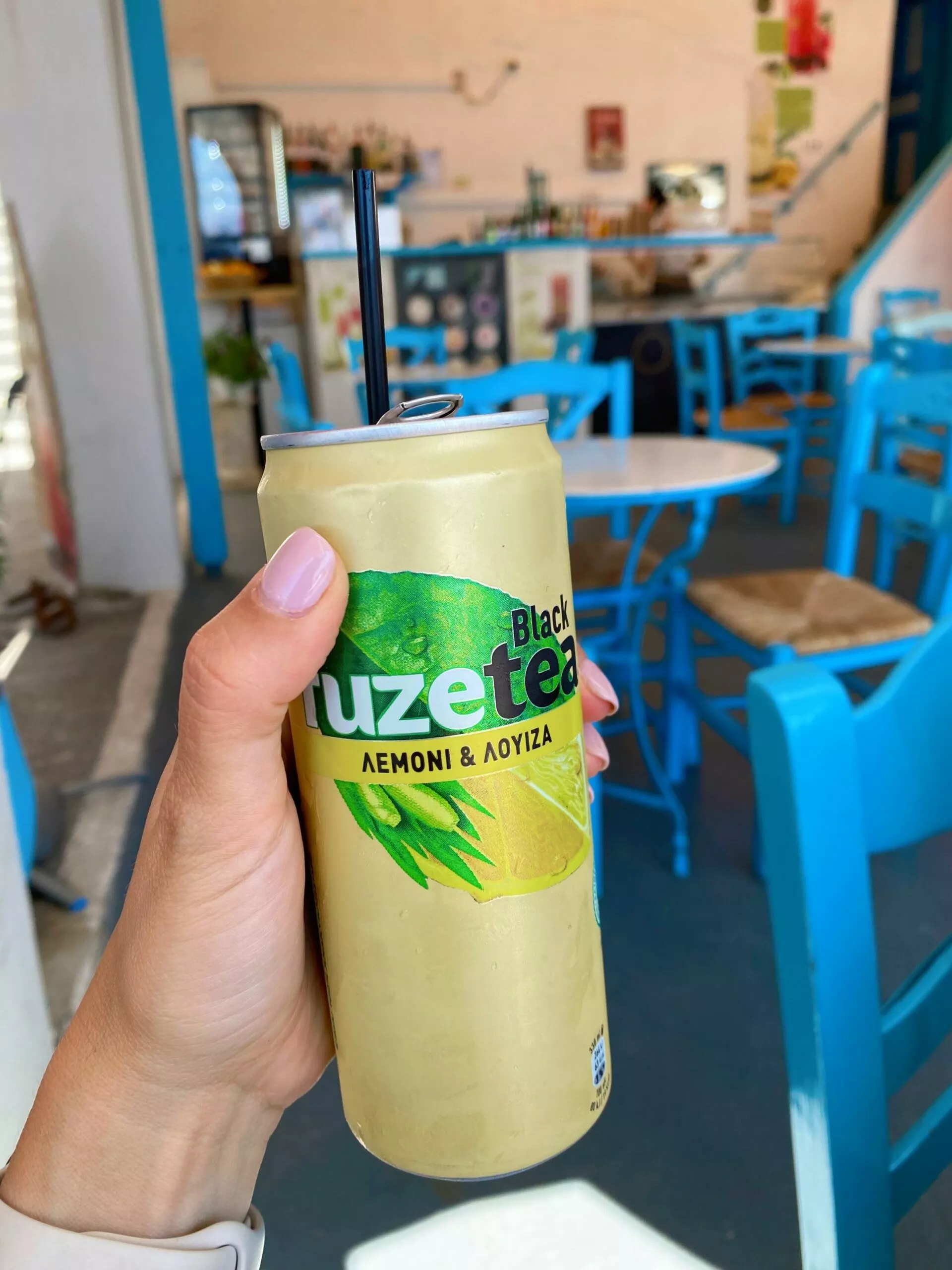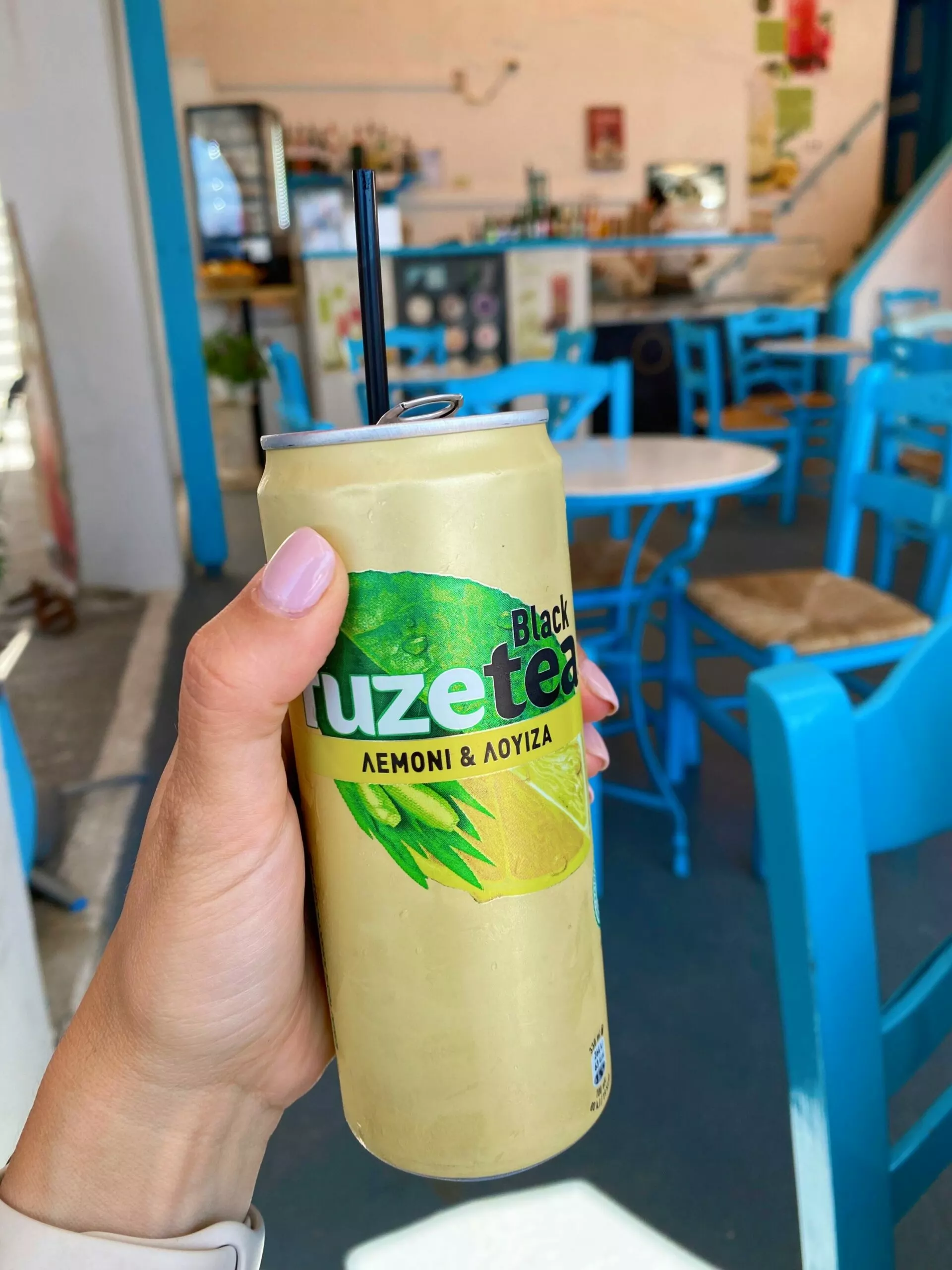 (I had ice tea at the café below the port. I mentioned this in a previous post, but iced tea in greece is crazy. Whether it's home-brewed or in a can, it really is something special. Many flavors are infused with lemongrass, ginger, or fruit, like cherry, and the iced tea is a little off.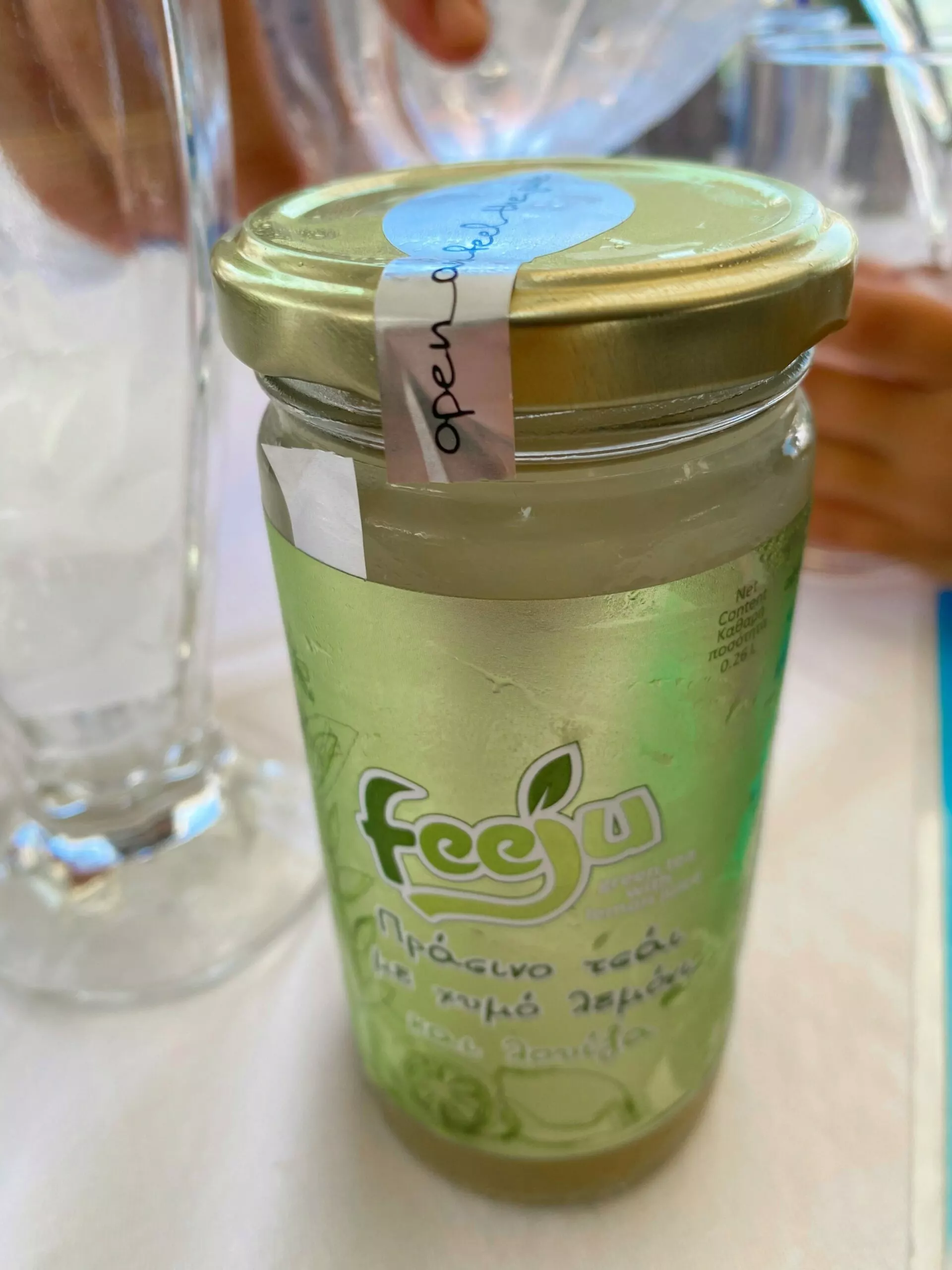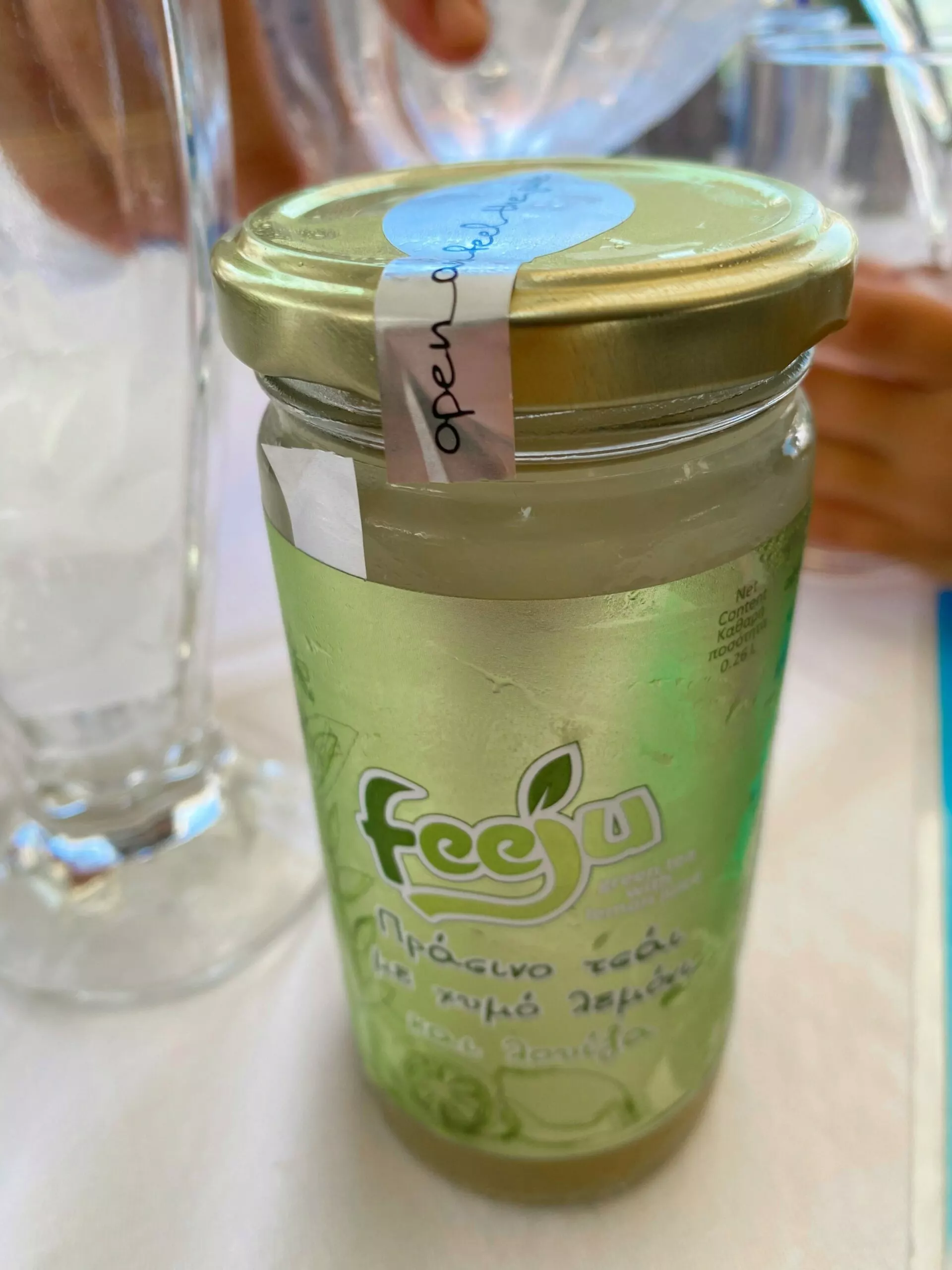 The owner also brought us shots of goose with our bill, ice cream for everyone, and sent us back to the ship with a giant piece of baklava.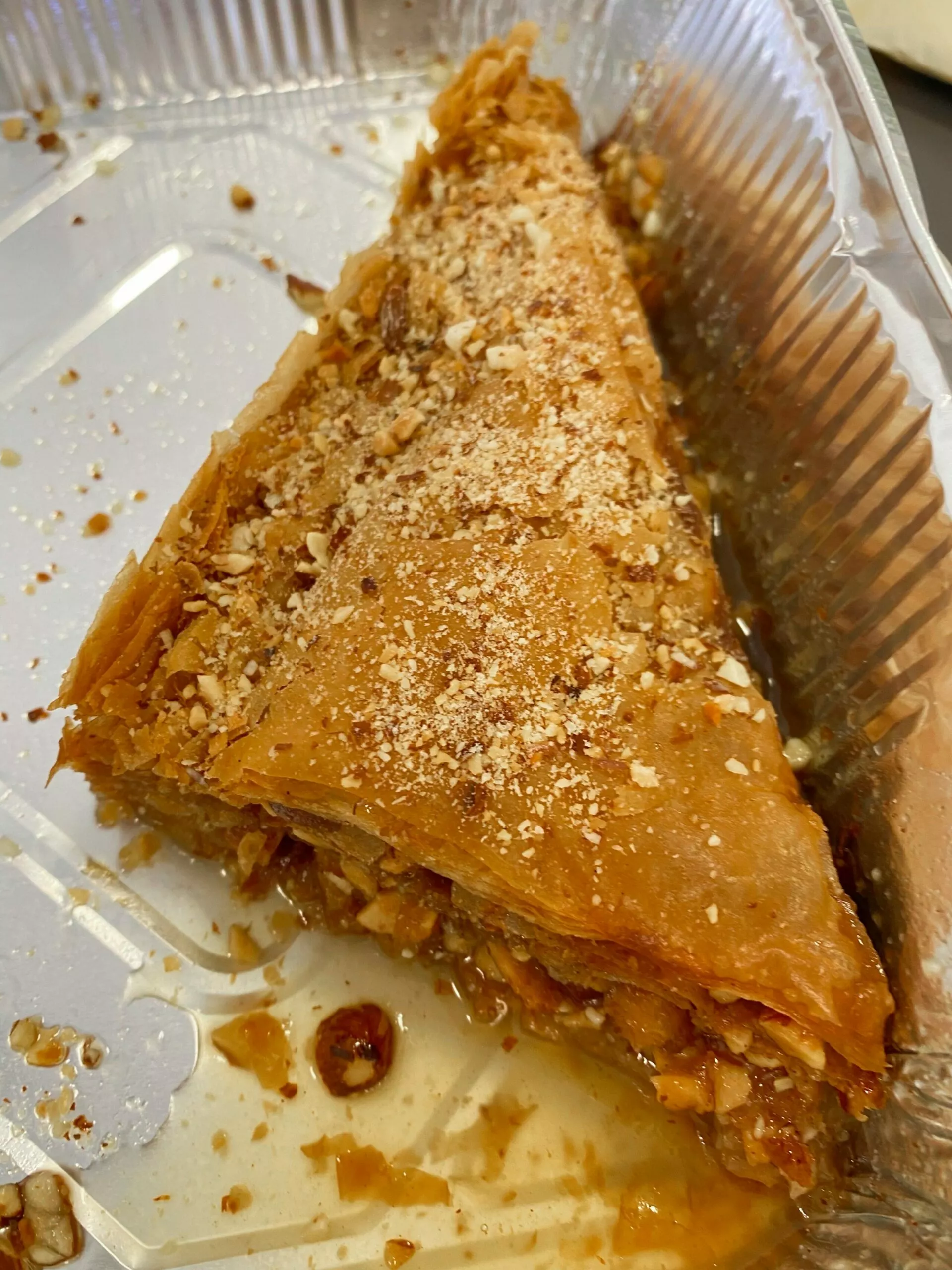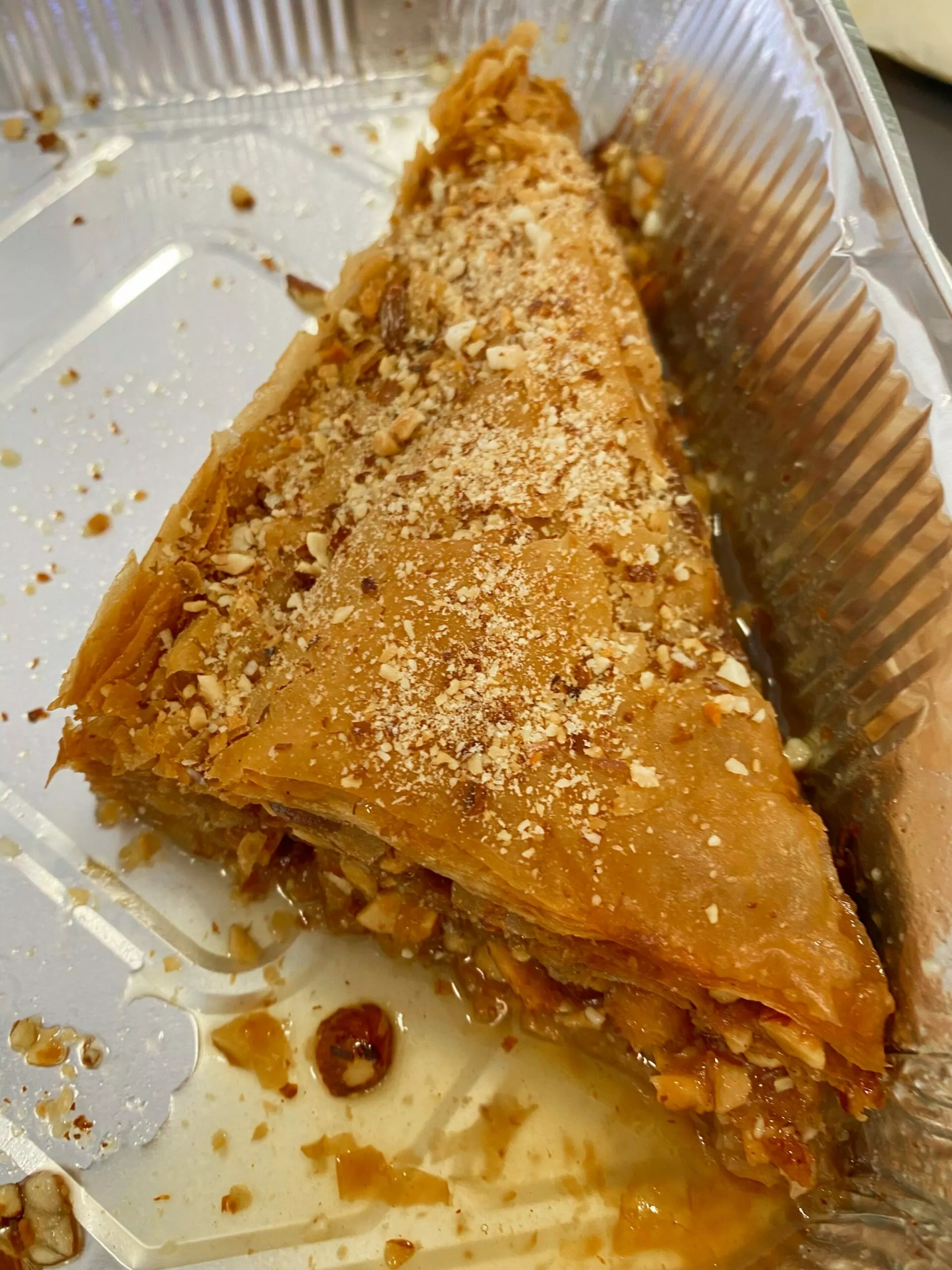 Chania: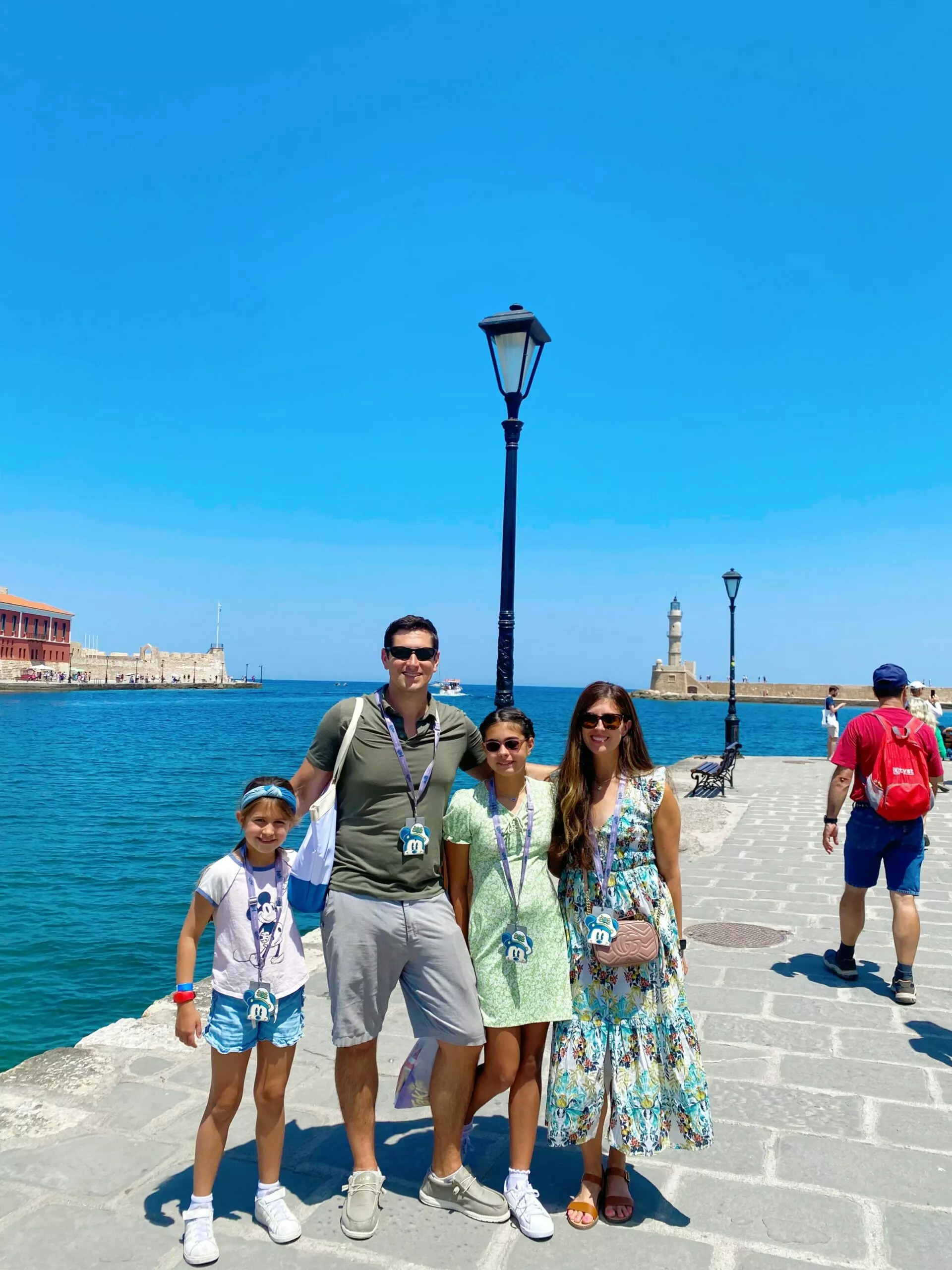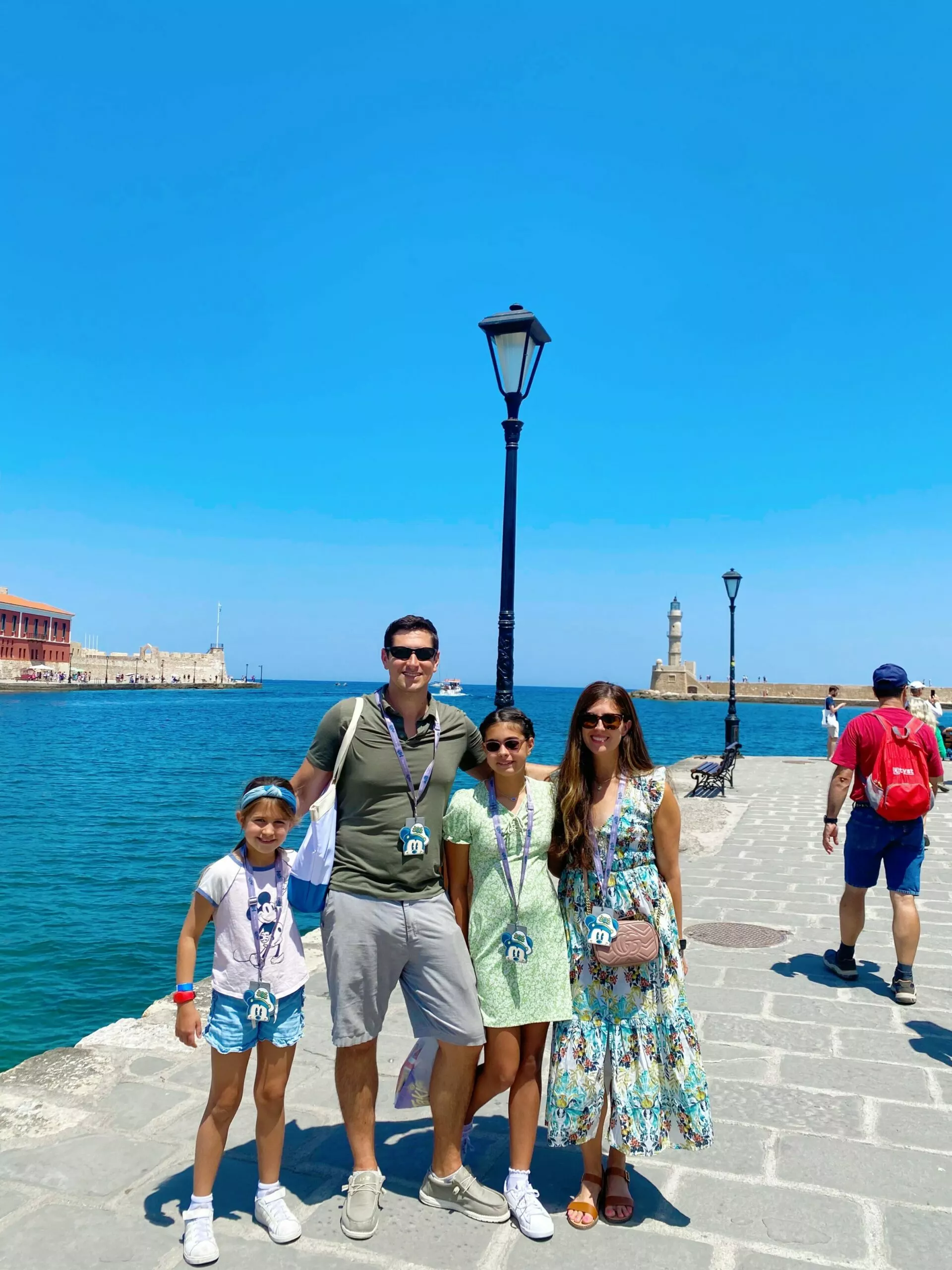 In Chania, we ended up exploring on our own, which was perfect. We followed a group of tour guides into the Old Town, which was lined with small shops, stalls, restaurants, and a great view of the bay.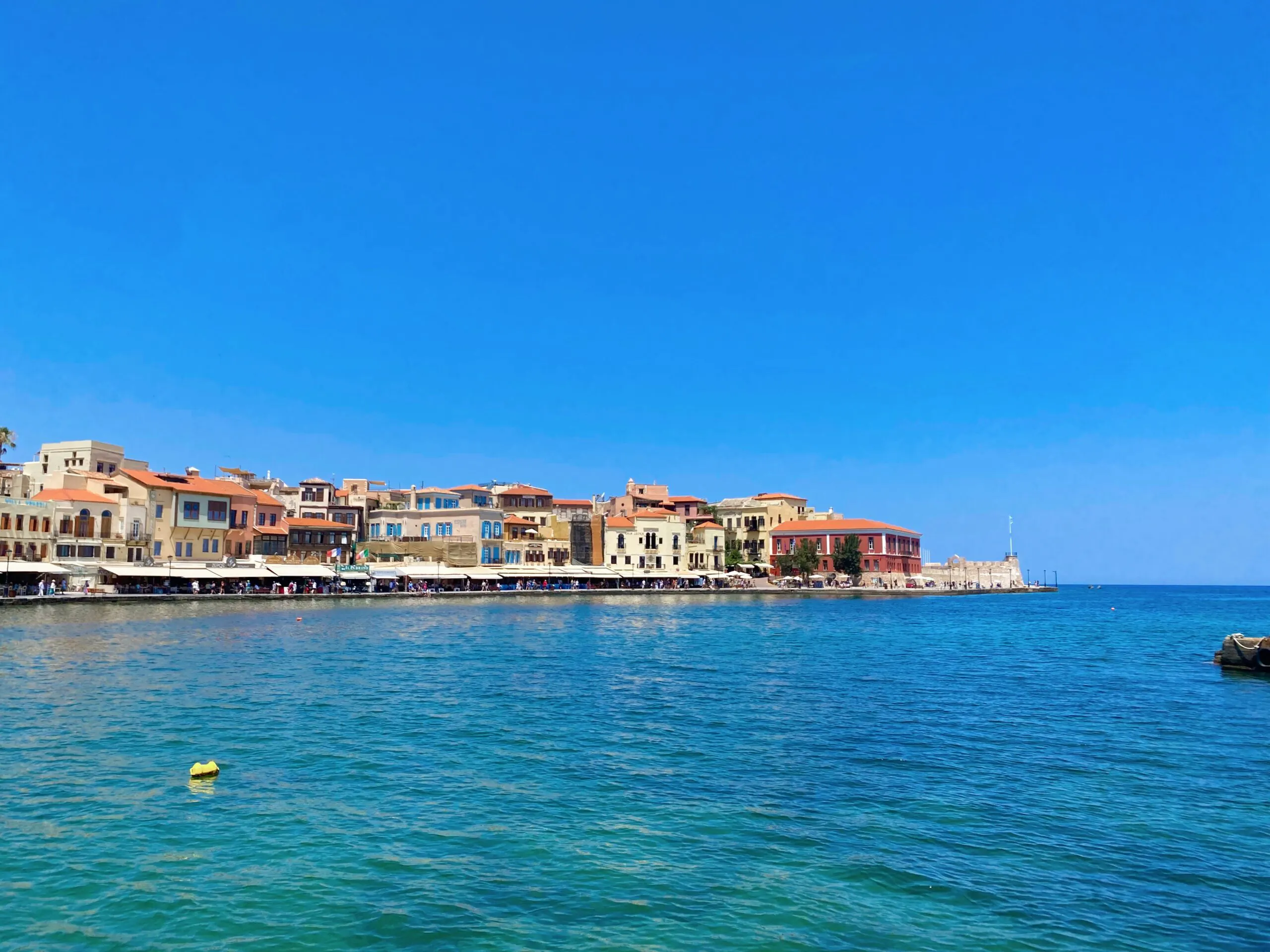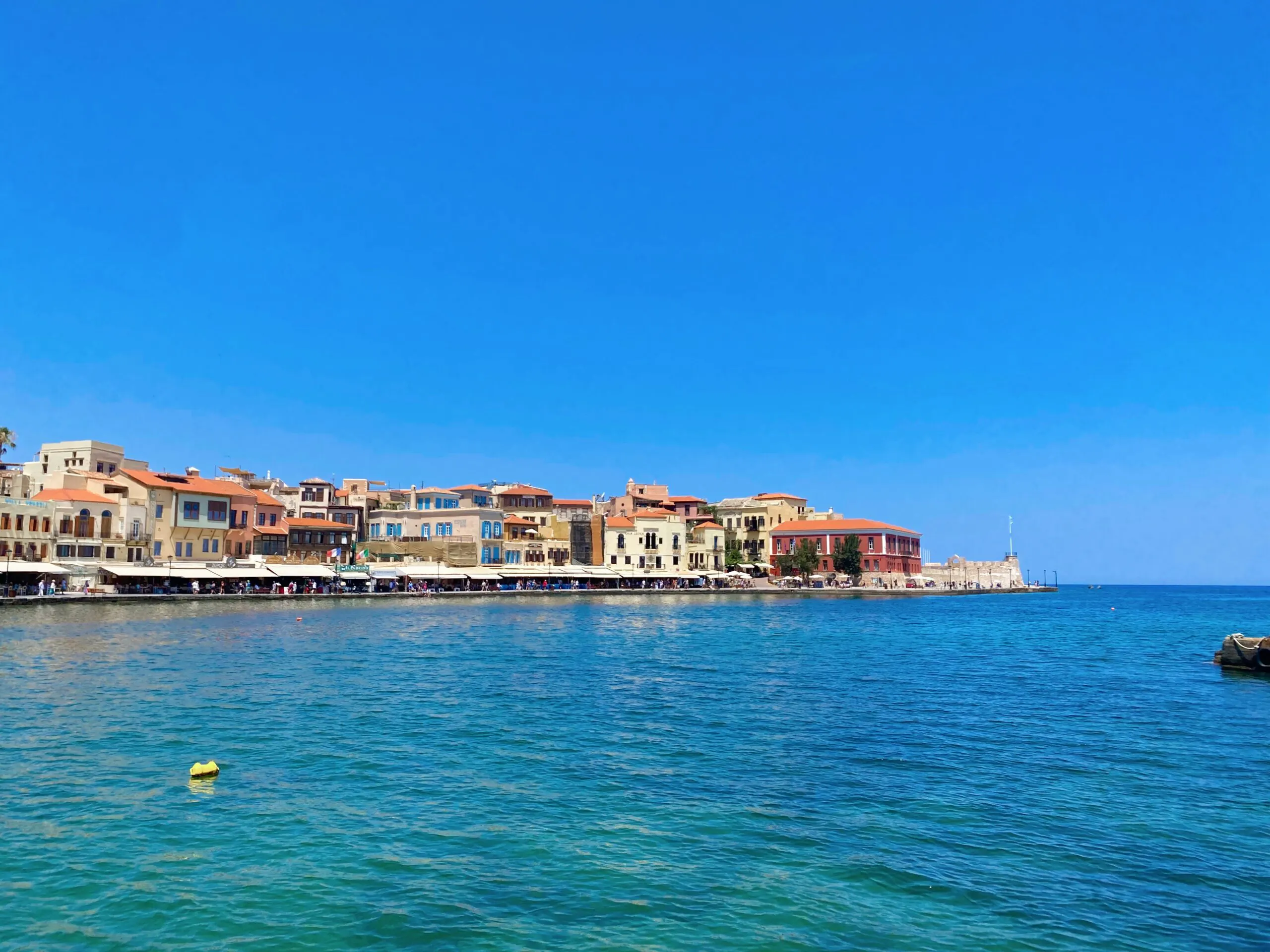 We bought souvenirs and jewelry, had another legendary lunch + more of the best tea.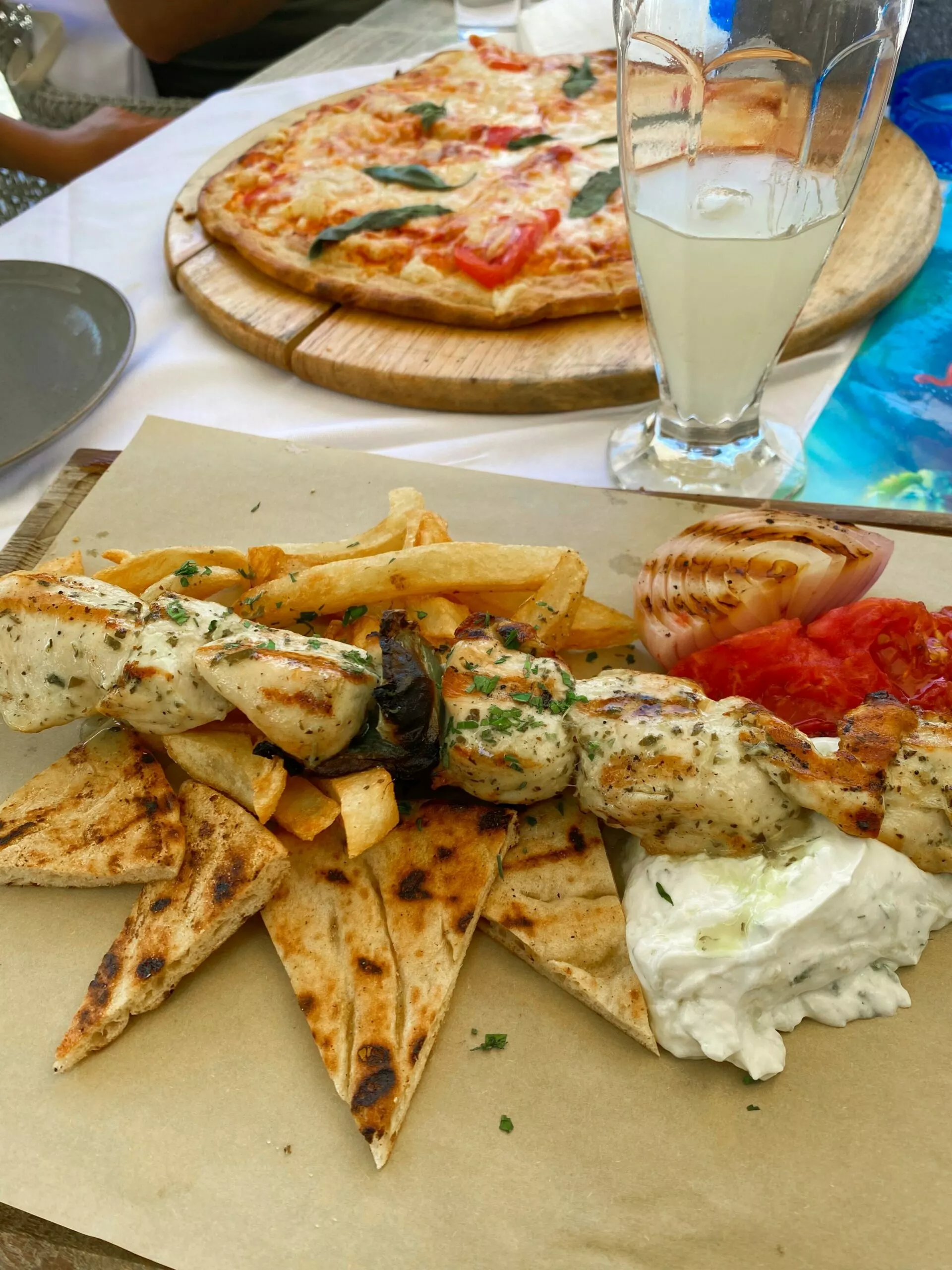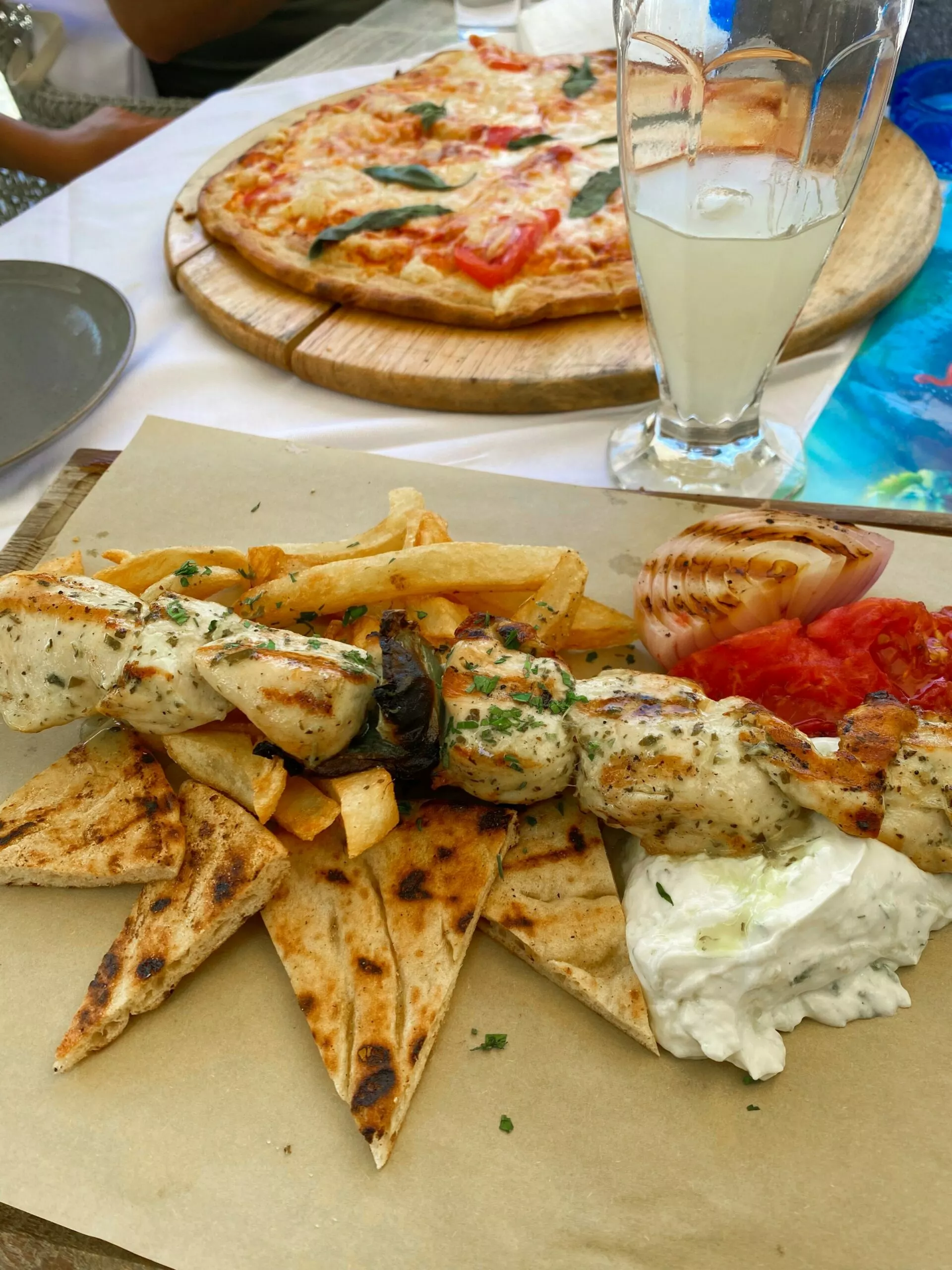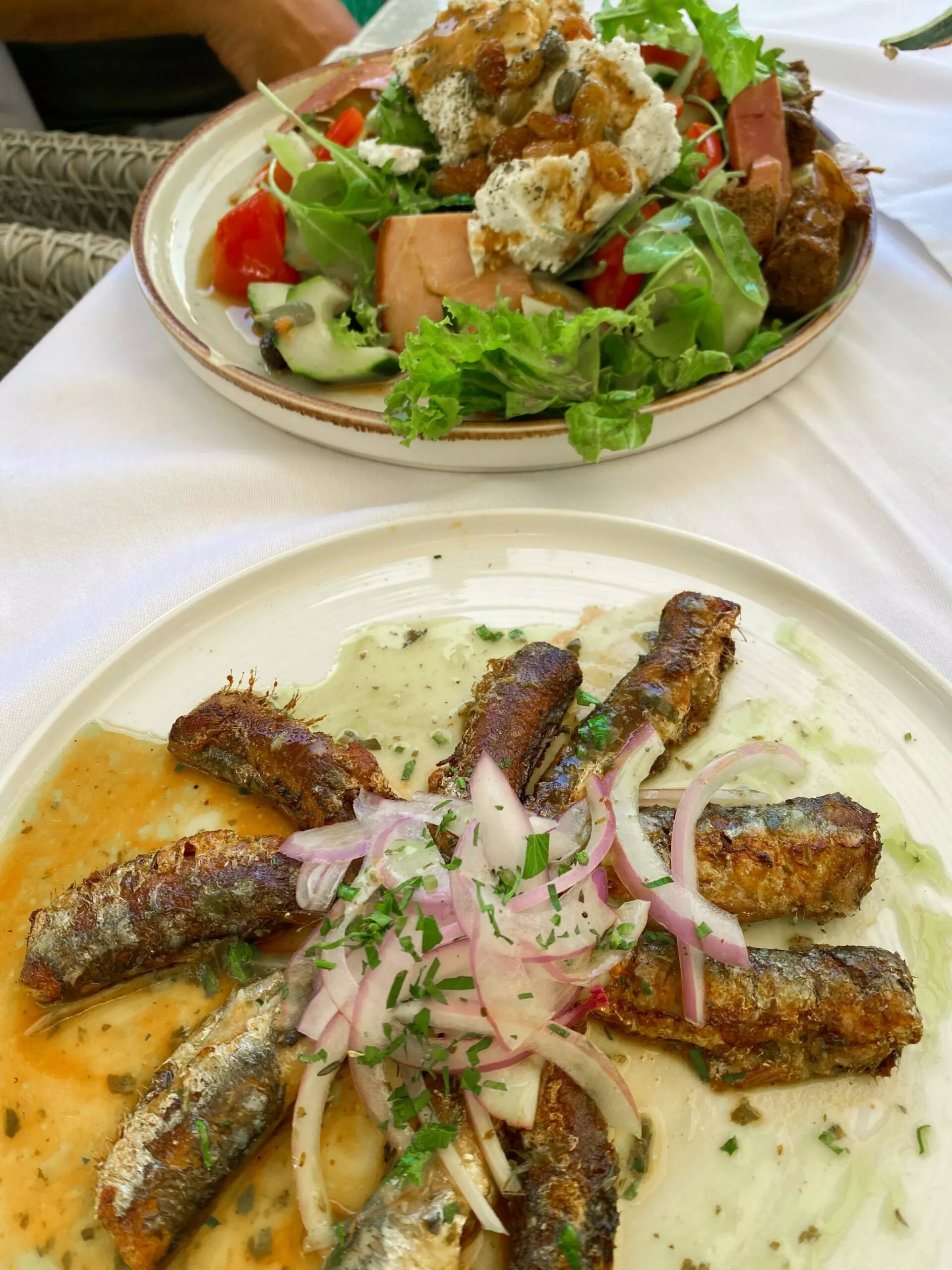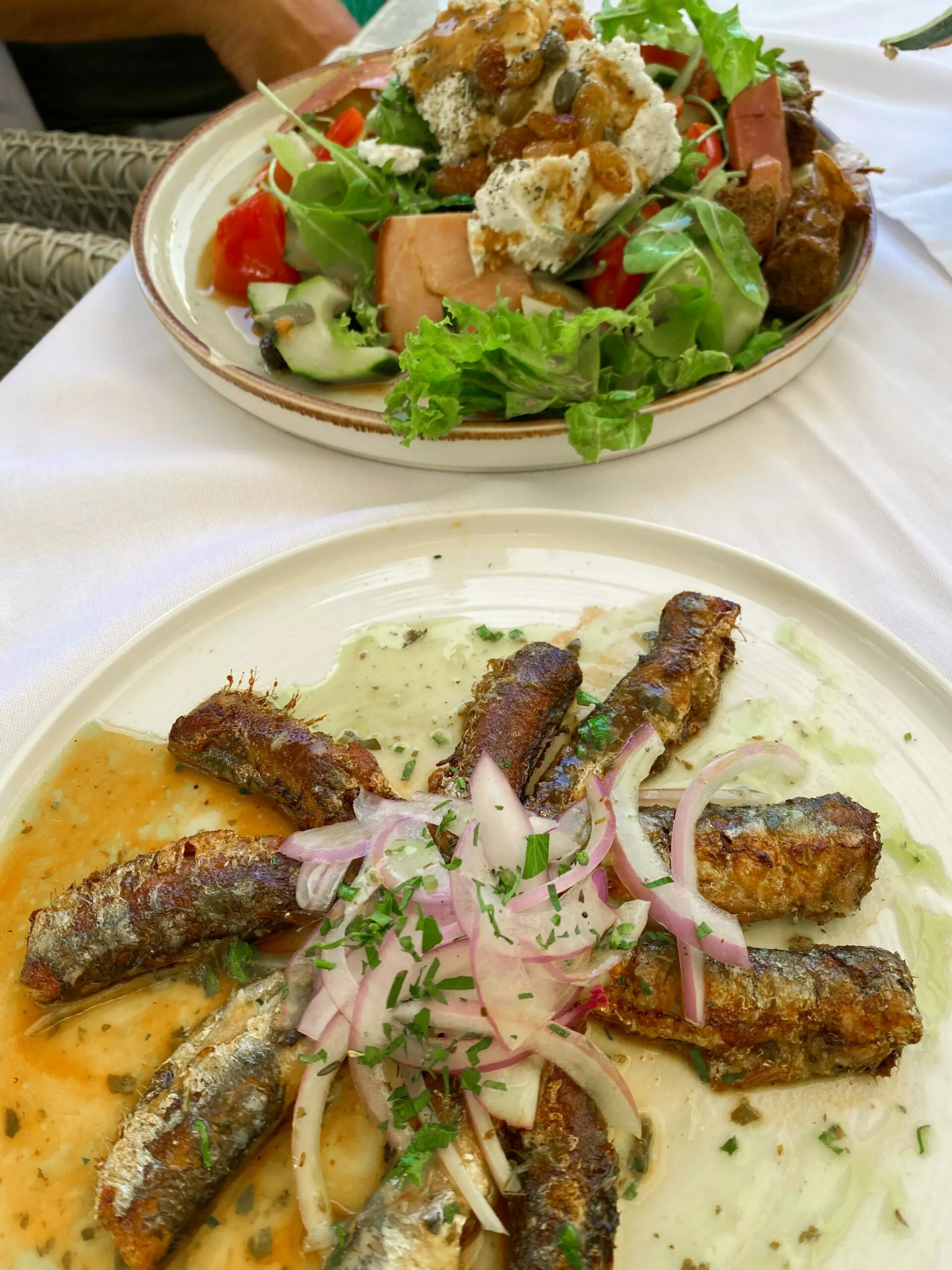 (the sardines were very tasty and tasty)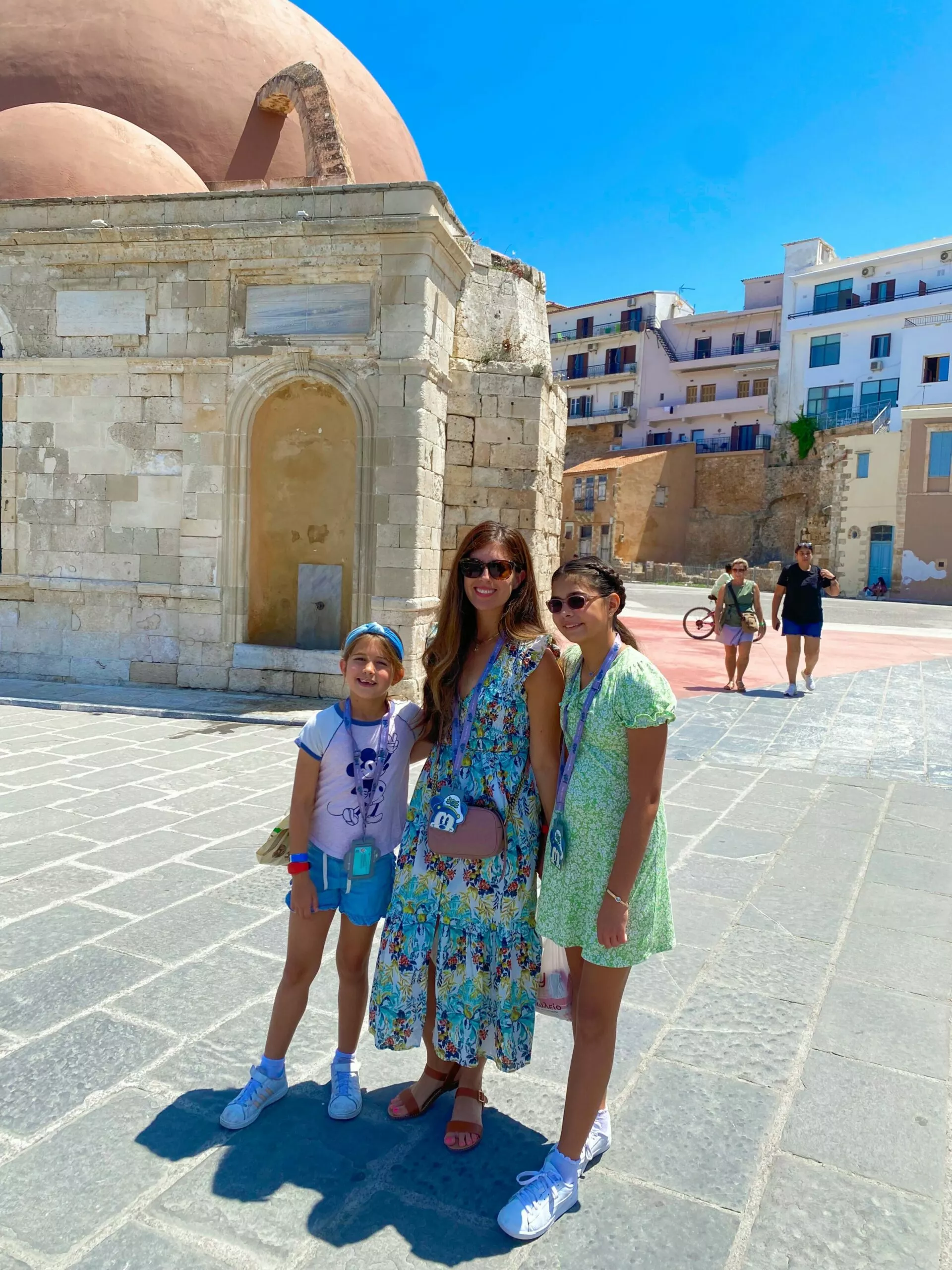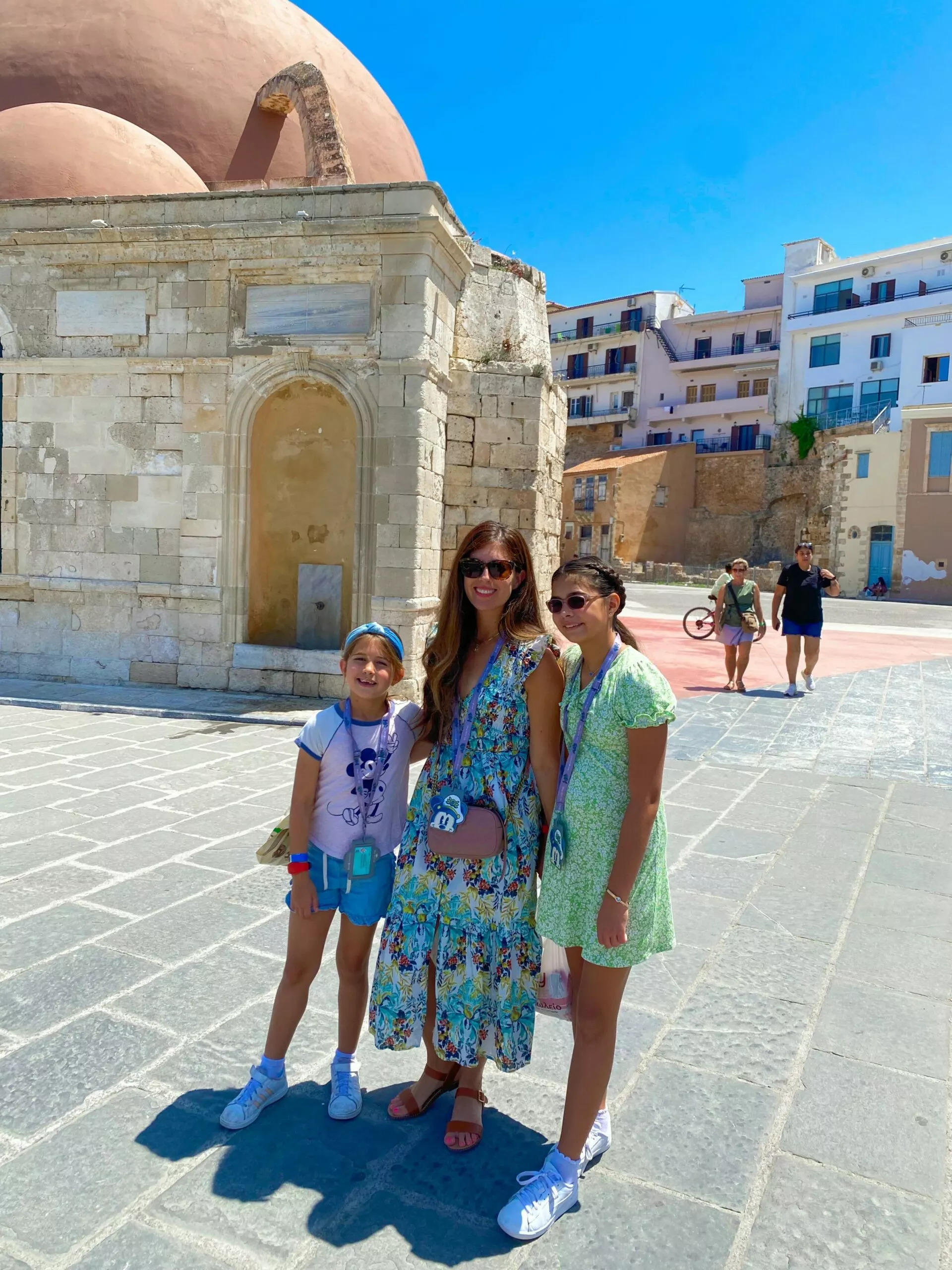 Disney Cruise Dream Dining and Activities
On board, we enjoyed all the usual Disney cruise offerings: Live Performances – beauty and the beast It was great – movies, personal greetings, bingo, gym, kids club, swimming, endless ice cream cones and Mickey bars, whiskey tastings, and all the great restaurants.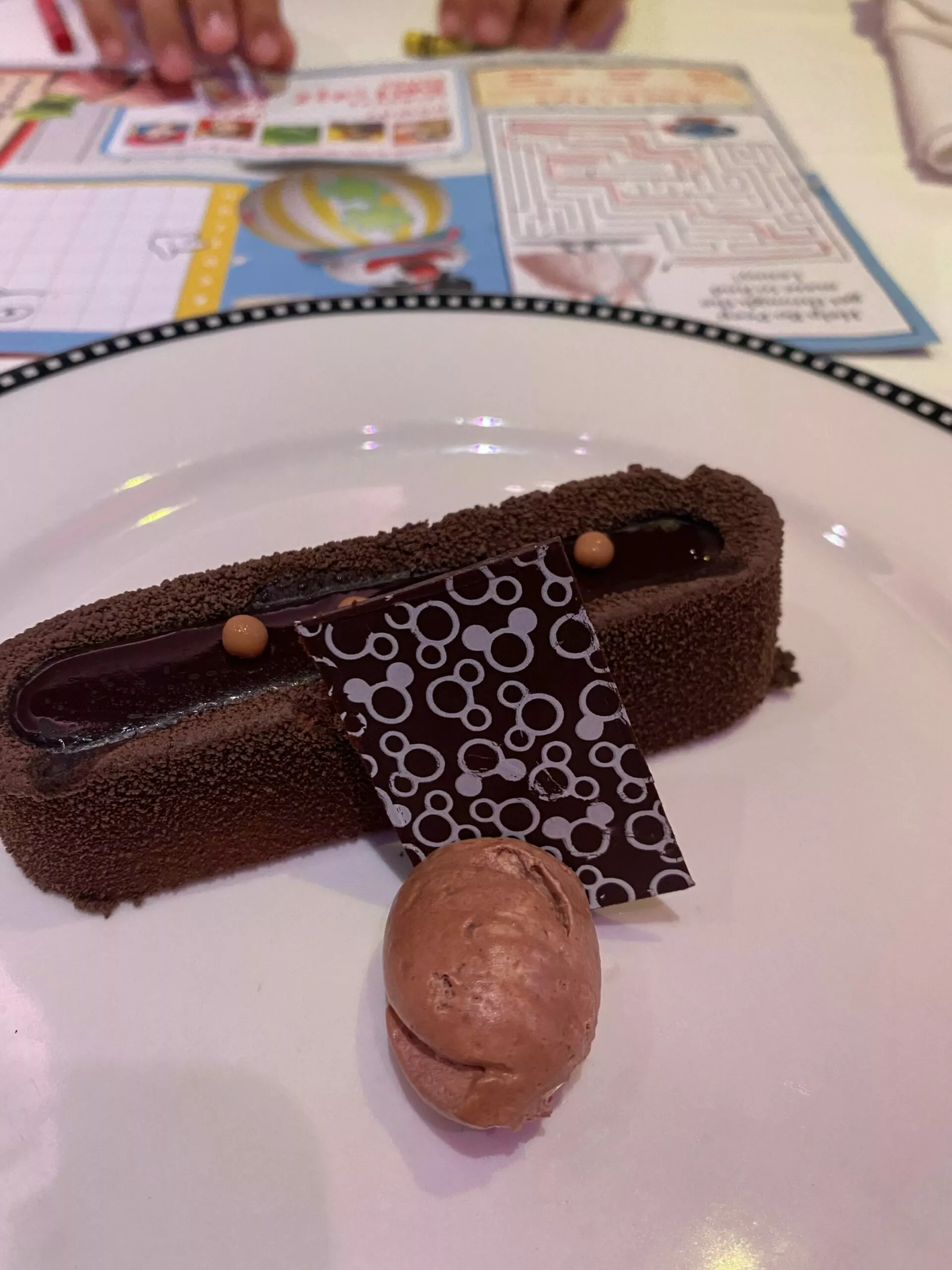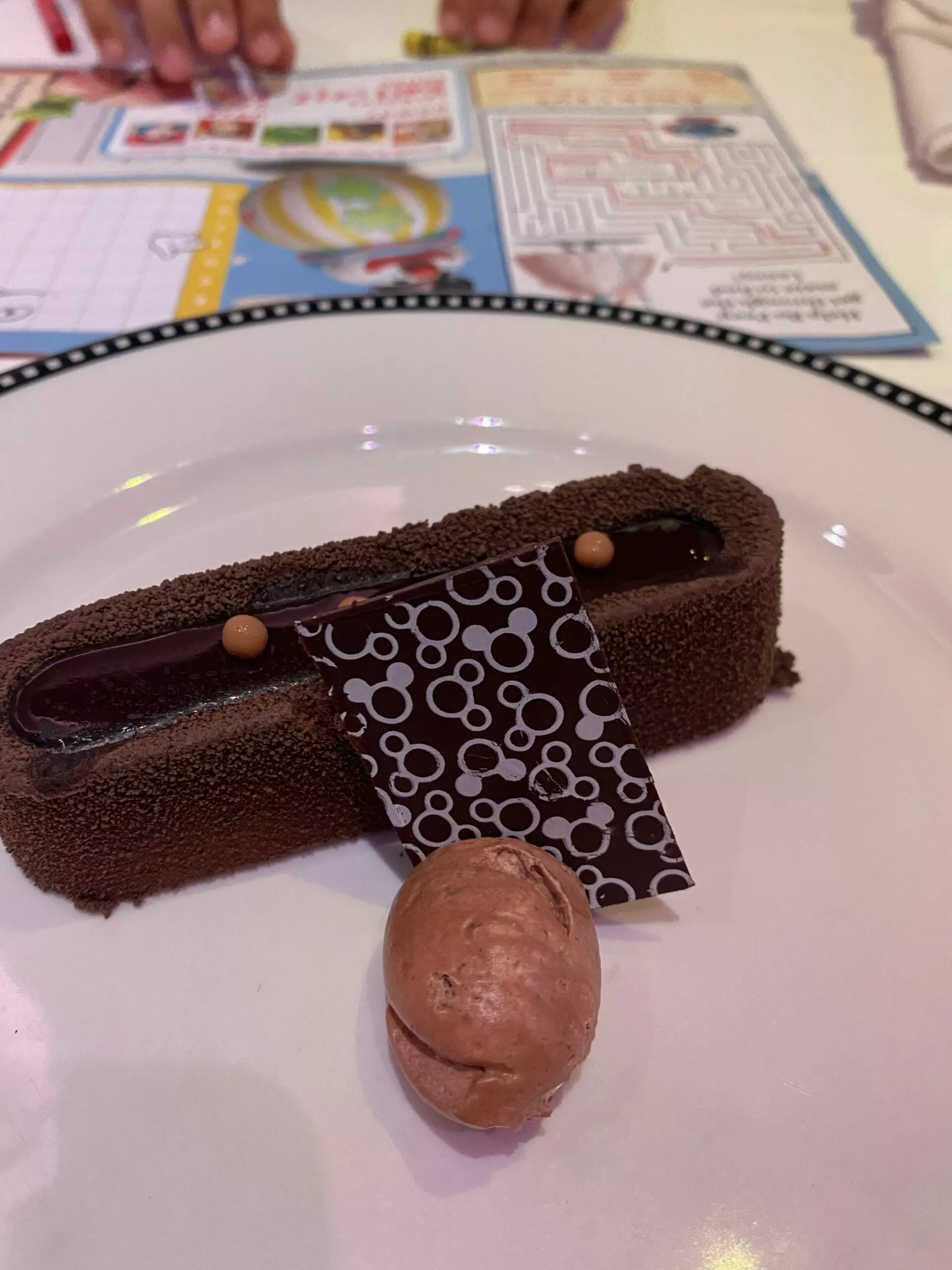 The best part is that we traveled with friends. The girls had buddies built in, and so did the adults 😉 It definitely makes the experience more fun!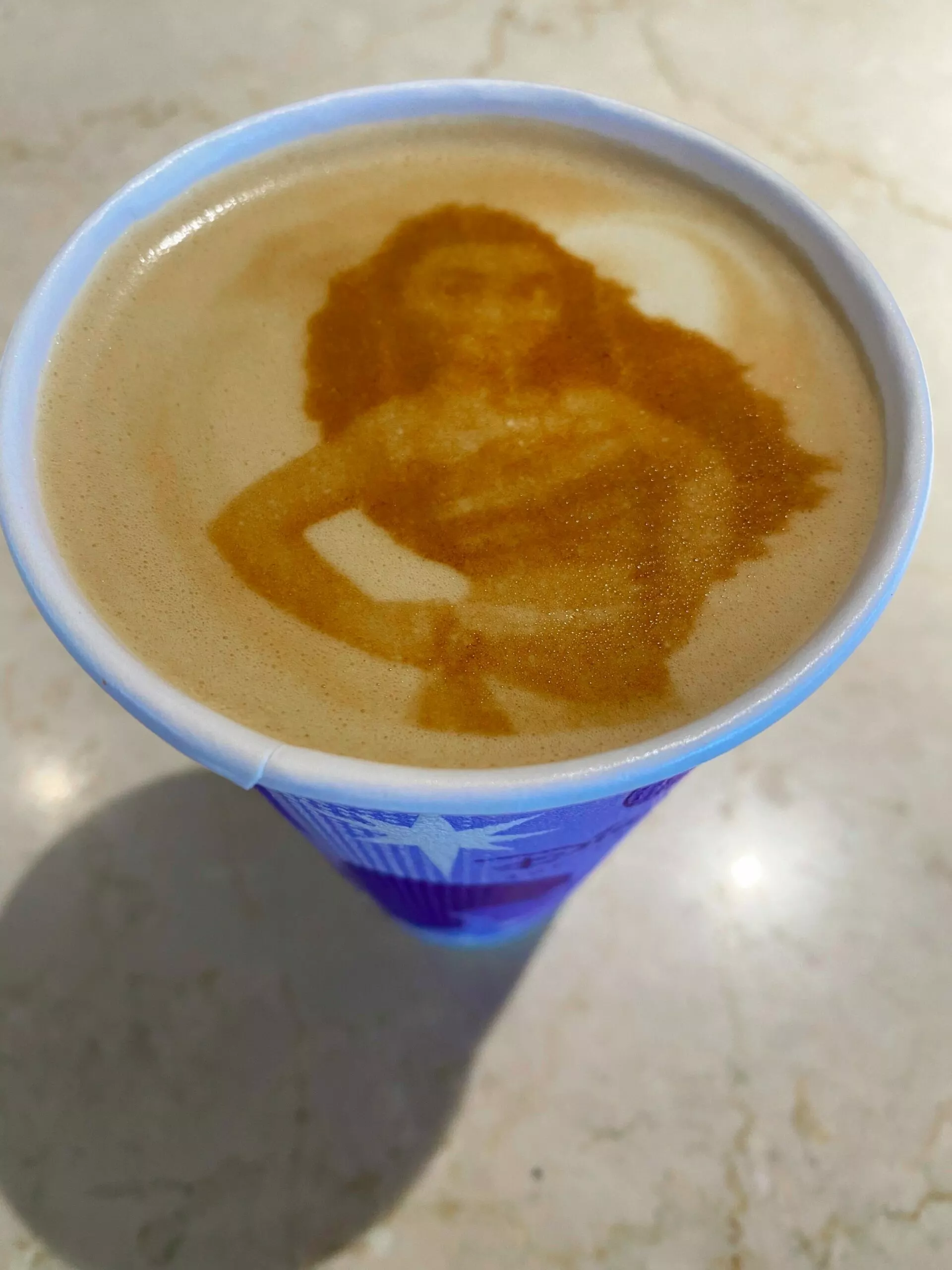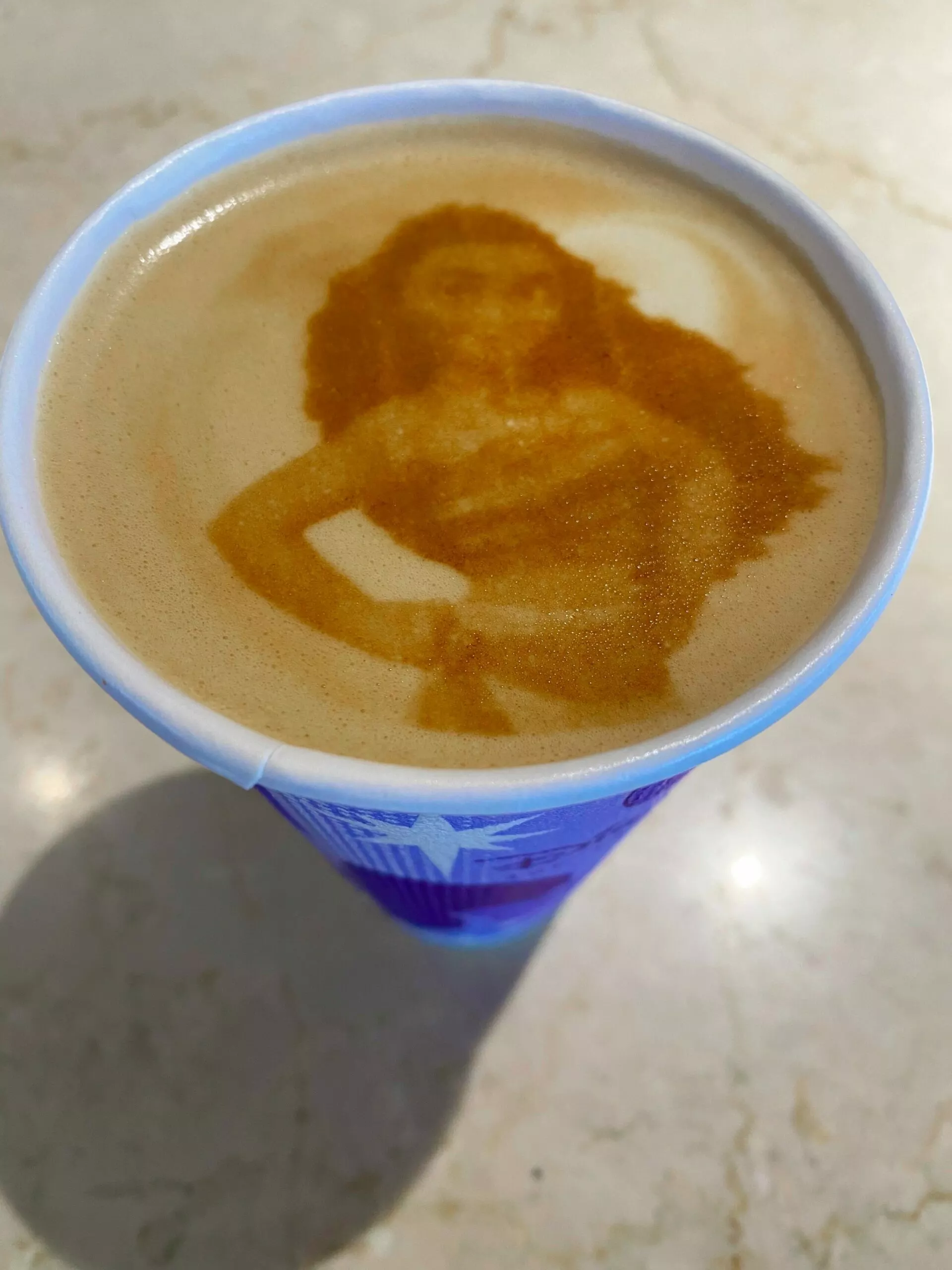 Disney really goes above and beyond when it comes to guest experience, cleanliness, and food quality. If you have any questions about your Disney cruise experience, let me know!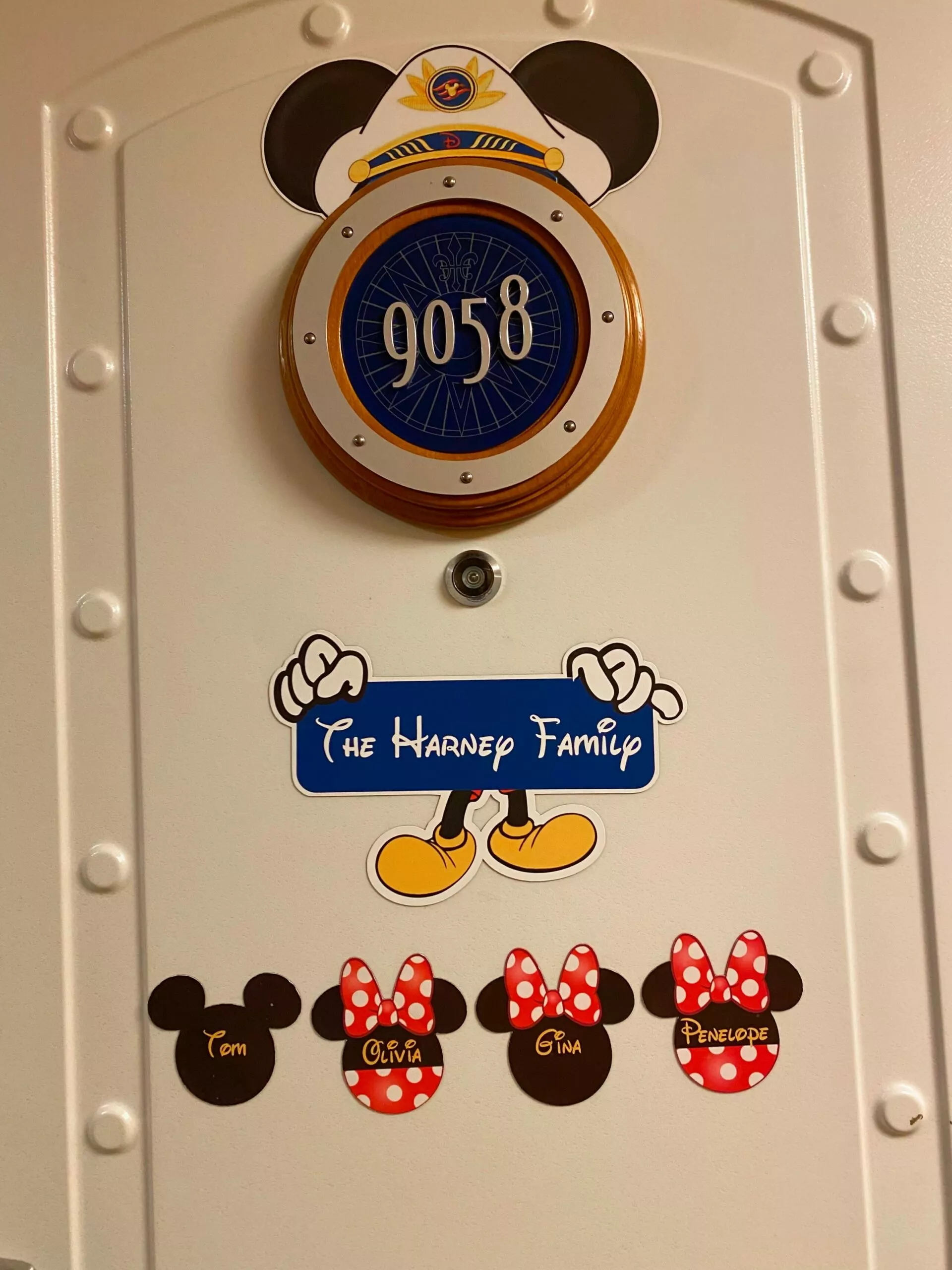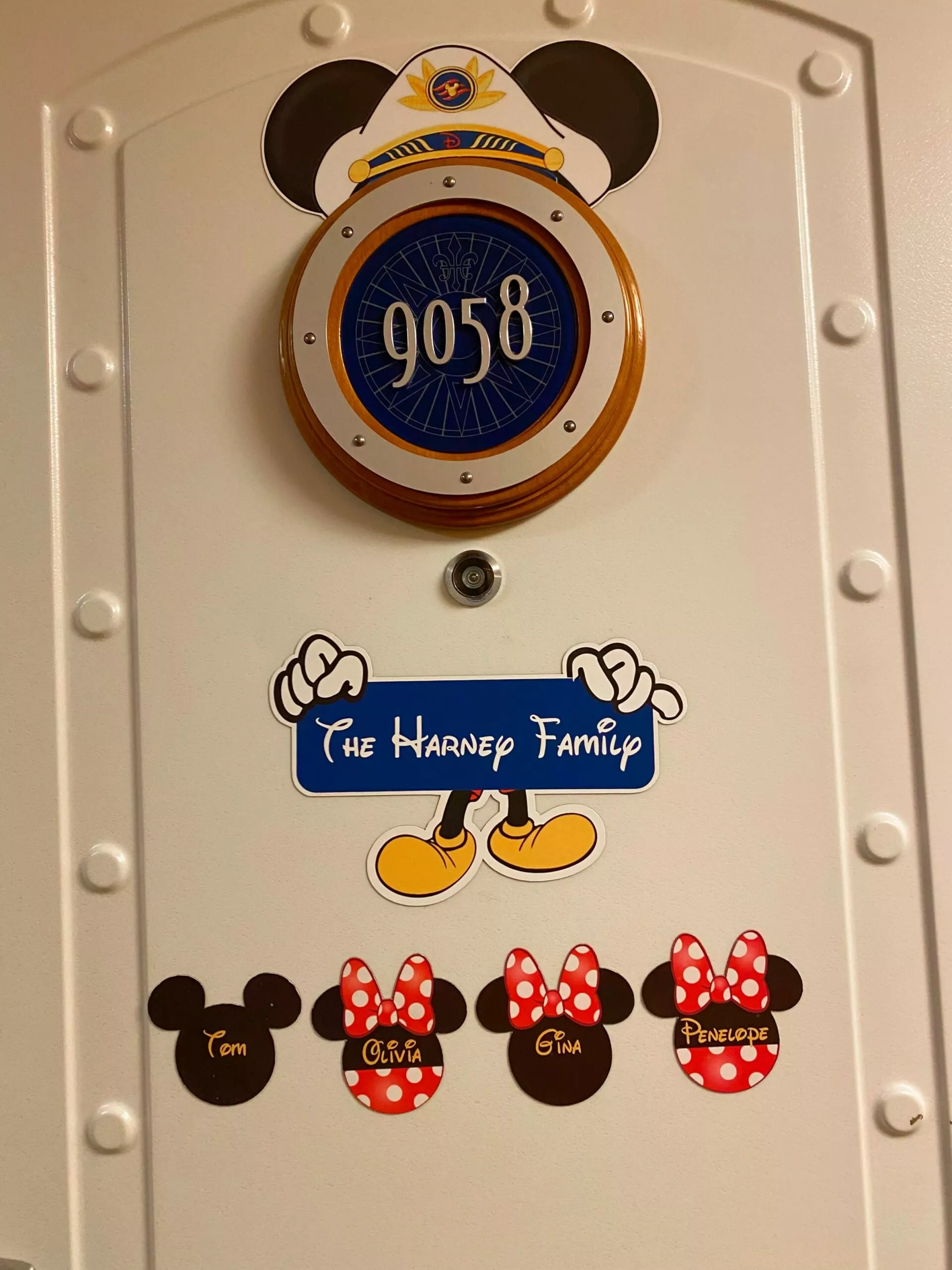 (The best cruise ship magnets are on Etsy!)
So, friends tell me: Are you a cruise fan or not? Did you take a Disney cruise??
Trying to figure out which one to do next!!
xo
Jenna
*All dresses in this post are from Nuuly! I've had hits and misses with them, but the dresses for this trip were all amazing