Are you looking for five ways to choose the right mattress for your dream home? There are many ways you can find the right mattress for your bed, but you may need some help from an expert. why? Because not all mattresses are created equal. A mattress is perhaps one of the most important investments you make in your home.
Choose the right mattress for your home
Designing your dream home can be a stressful and complicated process that can make you feel anxious at times.
To choose the perfect color matching furniture pair, every decision will be stressful physically and mentally, so after performing each step correctly if you fail to choose the right mattress, it will hinder your perfect dream of having a perfect home.
Buying a mattress can be a daunting task that requires a little research, knowledge and experience to finally settle on the perfect mattress of your choice.
You can spend hundreds or even thousands on a new mattress, but that may not be enough. Before you go out and buy the first thing you see that doesn't suit you. Try these five ways to choose the right mattress for your home.
1. Consider your sleeping position
Your sleeping position decides a lot about the type of mattress you should buy. For example, back sleepers need a medium firm mattress with excellent back support, on the other hand, side sleepers may also choose a mattress that matches the ideal body curves thus relieving pressure from the back and shoulder.
On the other hand, stomach sleepers need a mattress with a supportive foundation and a padded touch that is likely to provide the best possible comfort.
2. Mattress type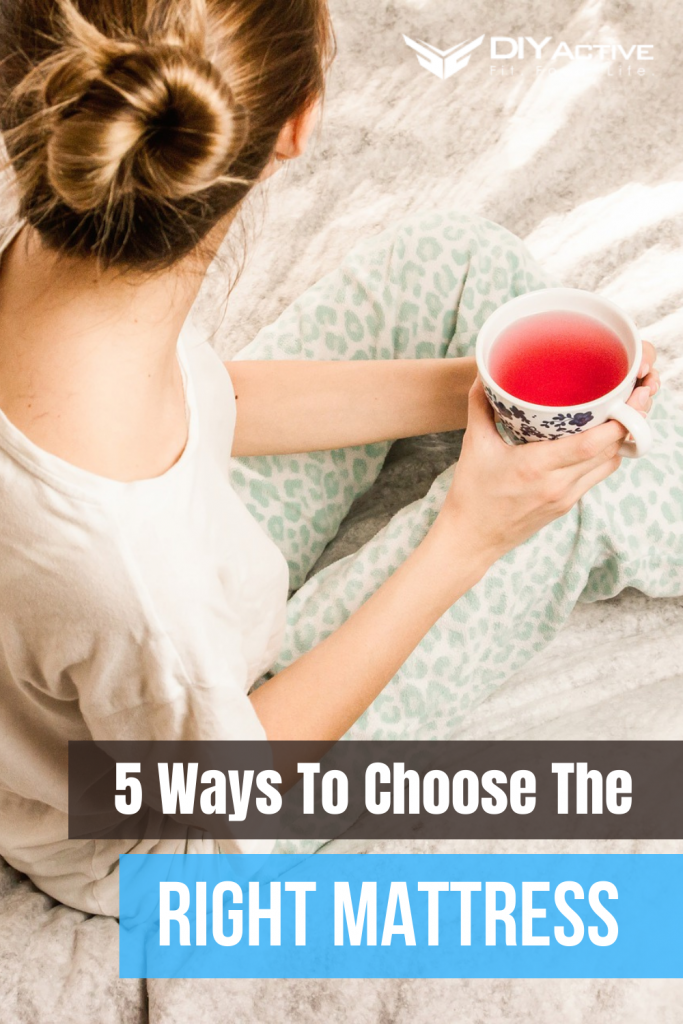 Memory foam mattresses provide the ultimate in comfort, and provide more support than many other types of mattresses on the market today. They are very solid, ideal for those with back problems, and do not require the investment in high-end furniture like many types of partitions.
This provides a great option for older couples without the need for high-end furniture. Many people find it comforting to sleep like a box spring or foam mattress.
In addition to being a great choice for the bedroom, many choose to use memory foam in their chairs. Some office chairs and daybeds are designed with this type of foam.
The cushioning provided by the memory foam mattress can help reduce the risk of developing lower back problems. You can choose from many different thicknesses.
Spring beds usually provide a softer feel than most mattresses, especially for people who are used to sleeping on springs. However, they do not provide the level of support that quality mattresses provide. Higher quality mattresses are more durable and provide less bounce.
Apart from these two mattresses, there is also a choice of hybrid mattresses that are used Next generation coil technology They typically feature a foam stack of top layers over internal pocket rolls or individually wrapped.
A hybrid mattress combines the support and comfort that would normally be obtained from a combination of memory foam, gel and inner coil technology.
3. Mattress durability
The next thing you should think about is the durability of the mattress. Not many cheap mattresses provide high-quality foam. It may last for years, but is more likely to rupture after only a few years.
Therefore, you need to think about how long each mattress will last before you buy it. You may just need a mattress that provides very comfortable support, or you may want something more durable.
If you are planning to have children, you may also want to consider the firmness of the mattress you are planning to buy.
4. The cost of the mattress
The next thing you want to think about is cost. Do you want to spend a lot on a mattress? Many inexpensive options provide a comfortable sleeping surface. Often these are between very expensive and very expensive mattresses.
5. Mattress size
You'll also want to choose the mattress size. And frankly, there is no The perfect mattress size which you should choose from. Mattress sizes depend a lot on your requirements and availability.
You cannot stuff a California king mattress in a room that is too small or a twin mattress that will look aesthetically pleasing in the master bedroom. Again a lot depends on your requirements. If you want your kids and partner to join you in your bed, you might consider buying a king mattress, on the other hand, a queen size mattress is often enough for a medium sized couple.
Do you have room for a king size bed or a queen size bed? Are you planning to sleep on your back or side? Should your mattress rest on the floor or box spring? All of these things will determine the size of the mattress you need.
Of course, the main consideration is how comfortable you feel when sleeping on it. If you are not sure, you can always lie on the mattress and try it on yourself.
Just make sure that it provides enough support for your body and that it does not cause any discomfort to your back, shoulders or legs.
is contained
Now that you know the basics, here are five ways to choose the right mattress for your dream bed. Choose the size, color, cost, stiffness, and level of support that works best for you.
Most importantly, choose a mattress that you enjoy sleeping on. Your mattress is yours and you want to make sure you love it for years to come.
Latest posts by Larry Alton
(show all)